BRINGING A NEW PUPPY HOME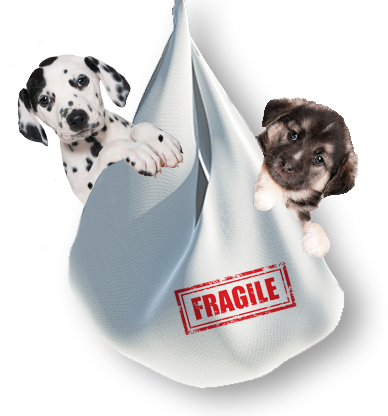 GETTING A PUPPY IS AN EXCITING TIME
Hopefully you've already had a look at our buying guide and chosen your new pet. We're sure you've got lots of questions, so this handy puppy guide brings together all the essential puppy information you need. You'll find out how to make them feel instantly at home when they first arrive, and how you can keep them healthy and comfortable in the following months.
WHAT DO I NEED FOR A NEW PUPPY?
Preparing for a puppy can be hard work if it's your first time. Make sure you have everything ready for them when you get them home with our new puppy checklist.
CAR CRATE OR DOG GUARD
Keep your puppy safe and secure in the car with a travel crate or cage or, if you don't have enough space, with a dog guard fastened to the rear seat.
KENNEL OR DOG RUN
Puppies are social animals and will prefer to live with you in your home. If you absolutely must keep them outside, an enclosed kennel or run will help keep them safe and protect your garden. Make sure you put some comfy bedding inside to make it warm and cosy for your pup. Keep lots of toys inside to keep them entertained and help stop your puppy barking.
PUPPY CRATES AND CHILD GATES
Crate training can be helpful when house training a puppy or when you have to leave them unattended. Always make sure the crate is big enough for your puppy to stand up and stretch out in, and that the mesh is small enough for them not to get their mouth caught.
BEDDING
Every puppy needs a comfy bed, so get one that's big enough for them to grow and stretch out in. Make it extra cosy with a blanket or 'vetbed', a synthetic sheepskin that's machine washable, non-allergenic and chew resistant.
COLLARS
Choose a collar that suits the size, age and breed of your puppy, and make sure it fits snugly enough not to slip over their head, but is loose enough for you to slip a couple of fingers underneath.
IDENTITY DISC
The law demands that your puppy has your name and address either on their collar or attached to it, even if they are microchipped. Not doing so can result in fines of up to £5,000.
GROOMING EQUIPMENT
Professional puppy care costs a lot of money, but you can do most of it yourself. A rubber toothed or short bristle brush will collect loose hair and help keep their skin healthy. Round tipped scissors are good for getting rid of knots and tangles, trimming your puppy's beard and keeping hair out of their eyes. You'll also need nail clippers to keep their claws short and avoid you, your family and furnishings getting scratched. Be careful when grooming your pup as their skin is very delicate, and take extra care when clipping their tiny claws. If you need guidance, your vet will be happy to help.

BOWLS FOR FOOD AND DRINK
Your puppy will need feeding regularly and fresh water available at all times. Choose non-slip bowls to avoid unwanted spills at puppy feeding time.
CLOTHING
A fitted coat or jumper can help protect short coated or newly clipped puppies from the cold – and longhaired puppies from water and dirt – when you take them for their walk.
TOYS
Toys are essential for puppy development and to keep them entertained and stimulated. Chew toys will also help keep their teeth, gums and jaws healthy. Be careful to avoid small toys, which could become a choking hazard, or ones that might splinter and hurt their mouths.
SHAMPOO
Your puppy should only need bathing every few months, unless they go swimming or find something smelly to roll in. Choose a specialist dog shampoo to avoid irritating their eyes or skin, and towel them dry afterwards so they get used to it from an early age. If you have any questions about which shampoo is best for your puppy, just ask your vet.
LEADS
Choose a style, length and weight that's right for your puppy. Rope and leather are strong and easy on your hands, chain and nylon are good for bigger dogs and ones that chew their lead but can be uncomfortable to hold.
TOOTHPASTE
Gum disease is common in older dogs and can lead to health problems, so get your puppy used to having their teeth cleaned with special non-foaming canine toothpaste and a rubber thimble.
POO BAGS
The law requires you to clear up after your dog in public areas, so always ensure you have a ready supply of poo bags. If you don't you could face a significant fine.
ANTI-PULLING AIDS
Use these harnesses or head collars from the start to teach your new puppy to walk at heel and not pull on their lead.

EARLY CARE FOR PUPPIES
As pet insurance isn't the only thing you need to think about before you get a puppy or kitten, our kitten and puppy insurance team have put together lots of handy care tips for those early weeks.
BRINGING A PUPPY HOME
Before you bring your new puppy home, you need to make sure your house is safe. Take care to remove choking hazards, and wipe everything they could lick or rub against with a pet-safe cleaner to reduce the risk of poisoning or irritation. You should also protect your pup by taking out puppy insurance and visit the vet for a check-up, to start vaccinations (costing about £20) and to begin their regular flea and worm treatments.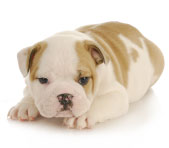 GETTING SETTLED IN
It's now the law in England to get your puppy microchipped (£20) before they're 8 weeks old, so if you haven't seen your vet about it yet, you should do this now. Now they're almost big enough to go outside, you should also start toilet training and puppy classes to get good habits established as soon as possible (courses cost £50 – £100). Introducing a new puppy to other pets and younger family members will also help them settle in.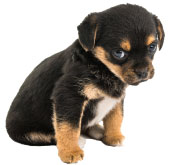 PUPPY TRAINING
Keep up the good work with toilet training, flea control and puppy classes, and book the next vet check-up (£20). Give your 3-month-old pup 15 minutes exercise a day, increasing by 5 minutes a month until they're fully grown. Try to introduce them to other dogs to get your puppy socialised and at ease around others. If you're feeling ambitious, you could even try teaching your puppy tricks!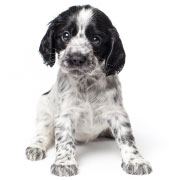 GOOD ROUTINE
By now your puppy toilet training should be complete and you just need to remember to regularly clip their claws (£10 at the vet), walk and treat for fleas. It's a good idea to have a ready supply of treats to help with obedience training. Go for healthy treats like carrot pieces or a small portion of their normal food from their daily ration. Remember, treats don't contain all the nutrients your puppy needs, so make sure they're only a small part of their daily diet. Don't forget to have lots of toys around to prevent your puppy biting and chewing on your clothes and furnishings.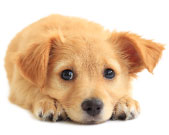 KEEPING UP THE GOOD WORK
This is the time to start thinking about having your puppy spayed or neutered if you're not going to breed from them. The cost can vary a lot depending on the type of dog you have and where you are in the UK, so it's best to check with your vet. Several charities, including The Blue Cross, can help with the cost of neutering dogs so it's worth contacting your nearest one to find out more. Make sure you keep up with your claw clipping, walking and grooming (about £20 – £30). And don't forget about taking care of their teeth.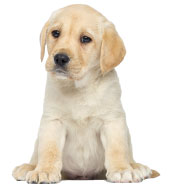 PLAY TIME
Your 7 month puppy will be bursting with energy so you can walk, play and have lots of fun with them for at least 35 minutes a day. Your pup will need regular breaks on walks and shouldn't be pushed too hard as their bones are still developing. Keep an eye on them and stop for a rest if they look like they're tiring. Remember to continue preventative treatment for fleas and worms (this will be on-going for the rest of their lives) and making time for regular grooming.