5 cat apps we adore!
Smartphones have opened up a whole new world of entertainment. There's literally an app for everything – including your cat!
Cat apps are becoming more and more popular and there's quite a few available. Below you'll discover some of the best applications available to download for your lovable feline companion.
1. Cat Fishing 2
Developed by Friskies, Cat Fishing 2 is one of the apps that is designed specifically for your cat. The goal is simple – there's different brightly coloured fish swimming around the screen and your cat has to swipe them to score points.
It allows progressive game play and you can see whether your cat gets the highest overall score. This is a fun app that will provide your cat with hours of entertainment.
2. CrazyCat HD
CrazyCat HD has been designed for both you and your cat. Available on the Google Play Store and created for tablet use, this app delivers cute cartoon characters that you control. Your cat can then chase them around the screen. To score points your cat simply has to hit the characters as they move. The quicker the characters are moving when they get swiped, the more points your pet will earn.
You'll need to buy the CrazyCatController in the game in order to connect your phone to the tablet. You then use your phone via Bluetooth connection to move the characters on the tablet. Again, your cat will enjoy hours of fun with this app.
3. Game for Cats
If you have an iPad, Game for Cats is a great simple app you can download. It's absolutely free and focuses on your cats natural instincts. It produces a red laser dot that your cat can chase around the screen.
There is the option to make a one off purchase to turn the laser into a mouse but the laser works just fine so you can stick to the free version if you prefer. Your cat's score will be stored and you can see how they perform compared to other cats around the world.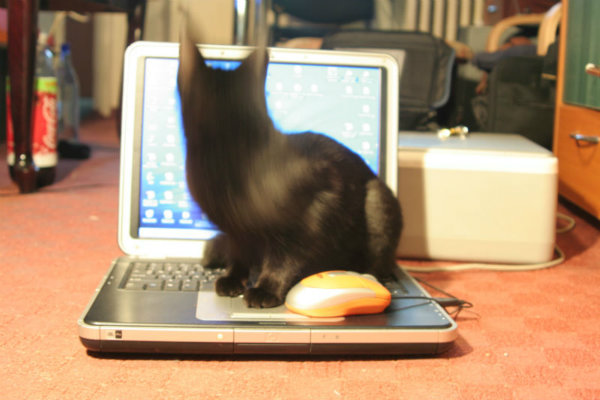 4. Happy Wings
Another great creation from Friskies, Happy Wings features timed levels where your cat needs to swipe the creatures shown on screen. Featuring bugs and birds, they leave behind a trail of feathers or sparkles and this encourages your cat to chase them.
As there are different shapes, this app tends to keep cats happier for longer.
5. Paint for Cats
Bring out your cats creative side in this fun, unique app. There's a mouse on screen that your cat can chase. As they do so, a trail of paint gets left behind. By the time the game ends your cat will have drawn a colourful picture without even realising it. You can share the painting with friends on Facebook once it's complete.
There are many different apps available for cats and these are just five of the top ones to download. You'll be surprised just how addictive these games can be for both you and your pet!