Dog beach etiquette and safety advice
The beach is great place to take your dog, especially in the summer time. However, there are some pet safety factors to consider before you have that great day at the beach.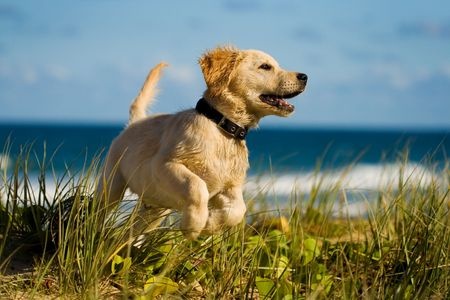 Restrictions
Before you even think about heading to the beach with your pet, check that the beach will allow dogs and is a dog friendly beach. Not only will you be disappointed but so would your pooch. Even if the beach does allow dogs, double check that it doesn't have any strict regulations in place which you may need to prepare for in advance.
Equipment
You may be bringing your picnic blanket along but don't forget to bring something for your dog to sit on too! This will stop paws and skin getting burnt on the hot sand and also gives you something to clean your dog with before you leave.
Make sure that your dog has a nylon lead and collar as it's a fabric that won't get destroyed by the seawater. It also goes without saying that you will need to bring poo bags along too!
Protection
Like we need to wear sun cream in the hot weather, so do our dogs! In particular, short-haired dogs need protection and you mustn't forget to apply cream to ears, noses and other hair-free areas. It is also a good idea to take an umbrella or something that can create shade so your dog does not over-heat in the sun.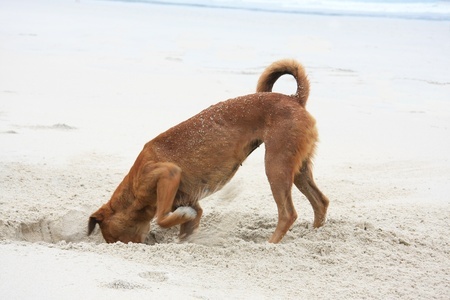 Dog training
If your dog isn't particularly well trained, it may be a good idea to get some training sessions in before you head to the beach. The beach is often crowded, loud and open so it's vital that your dog responds to your calls and returns when necessary.
Especially with the sea is in very close distance, it's extremely important your dog understands your commands. Even if your dog is very well trained, it's still necessary to watch them closely, especially if they are in the water as you don't want them swimming too far out to sea.
Swimming
If you're happy that your dog can swim in the sea safely, get them a toy that floats in the water for them to fetch. If you are concerned about your dog's swimming ability, there are doggie life jackets available so you relax while your pet has fun in the water.     `
Health
Dogs need plenty of water to stay hydrated and cool so don't forget the dog bowl and fresh water. If your dog doesn't have fresh water they may be tempted to drink saltwater, which can make them very ill.
It's also important to make sure your dog doesn't overheat. You can look out for this by checking that your dog isn't overly panting or drooling, vomiting, having diarrhoea or losing consciousness. Bear in mind that sand is harder to run on than other flat surfaces so therefore they are more likely to get tired quicker too.