Britons set to spend a record amount on their pets in 2015
2015 is predicted to be the year that pet owners will spend a record amount of more than £4.6 billion on their pets. This is predicted as owners are expected to invest in: designer outfits, exercise classes and special diets.
In fact, the total spending on pet care in the UK is expected to reach a record high of £4.7 billon, which is a 3% increase on last year's £4.5 billion and 25% more than 2010's total spend on pets.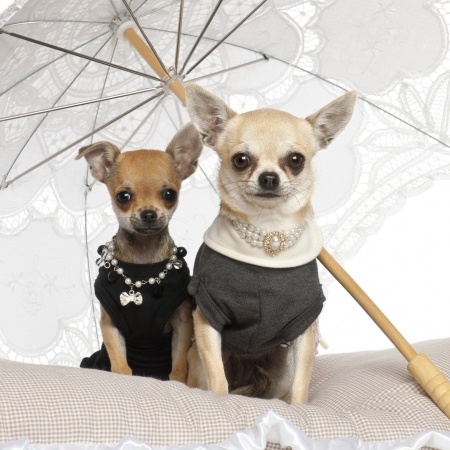 What pet owners are buying
In 2014, UK consumers splashed out £3.6 billion on pet food including special food and quality diets, with some even purchasing 'dog beer'. However, with £3.6 billion being spent on pet food, this means Britons spent almost £1 billion on other things for their pets. This huge amount of money was spent on non-edible items including: grooming treatments, holidays, day care, clothes and toys.
Gina Westbrook, the director of strategy briefings at Euromonitor, reported that money is being spent on commercial pet services such as: cat counselling, pet weddings and 'social petworking'.  According to Westbrook, a high amount of money is also spent on pet clothing – with a current trend in owners dressing their dogs in the colours of sports teams or dressing them up as characters from their favourite films.
One US pet superstore launched a line of Star Wars themed pet accessories advertising the new fashion for pet clothing.
Types of owners
So, who are these owners that are spending vast amounts of money on their furry friends? Westbrook splits these owners into three different categories:
Mainstream humanisers – this category accounts for two thirds of pet owners that are known for buying reliable, premium brands that suggest slight indulgence
Anti humanisers – this group accounts for 20 to 30% of owners that are known for buying ethical brands and choosing to put their pet on organic diets with special foods
Extreme humanisers – This leaves 5% of pet owners who tend to be big spenders; indulging their pet with designer clothes, crystal encrusted drinking bowls and extreme grooming treatments including stencilled tattoos and coloured hair chalk
Why is so much money being spent on pets?
Paula Flores, the head of pet care research at Euromonitor, believes that the reason owners are spending more and more money on their pets is because they "increasingly think of their pets as an extension of themselves".
Flores believes there are a number of reasons for the extensive spending of pet owners. One of her theories is that single pet owners are lonely hence why they are spoiling their pets.
Flores has named her second theory: 'DINKS' – 'double income no kids,' this relates to those couples that have both time and money to spend on pets and unconsciously substitute children for their pets.
Another theory is that pet owner's splash out on their pets as a way of flaunting their money. A Euromonitor survey found that two thirds of animal owners consider their pets a family member and 54% of owners believe it's normal to celebrate holidays with pets.