Pet Birthdays – Canine Cakes for Dapper Dogs
We never let any pet Birthdays go by without hearing: "Happy Birthday to you, happy birthday to you, happy birthday dear best friend, happy birthday to you!"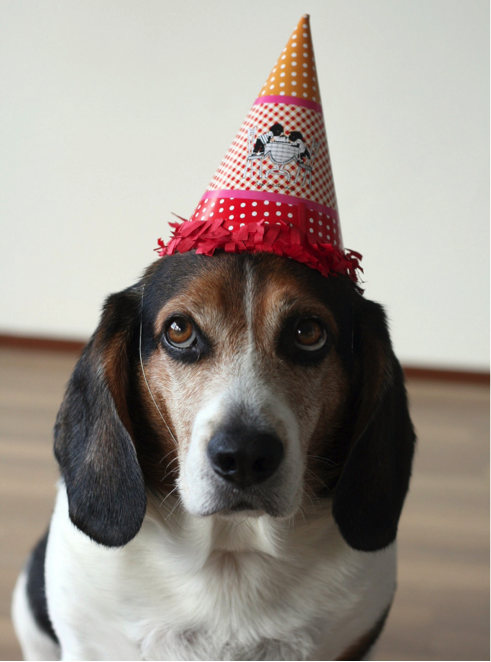 It's your dog's birthday and they're another year (or should that be seven years) older. As your best friend, they deserve a big surprise to celebrate the occasion! After all, they've been by your side every day for 12 months – for the good times and the bad, through thick and thin.
What better day to do this than on their birthday? And what better way than by giving them a cake? Especially as many people say that their favourite thing about their birthday is the cake and we all know how much our pups love their treats!
Here's a dog-friendly cake recipe that you can make with ingredients that you may already have in the kitchen. It's quick and simple to do, so you don't need to be a master chef!
The meat treat cake
These measurements are based on your doggie dining by themselves or with one of their pooch pals. If you have more canines coming to the party, adjust the amounts.
1 slice bacon
225g mince beef
125g cooked barley or brown rice
1 large grated carrot
1 egg
55g cream cheese
(low fat, salt and sugar options are always advised)
Method:
Turn your oven on to a toasty 180 °C (or gas mark 4).
Grease an oven-proof dish that you'll be putting the mix in, just to make sure none of it sticks.
Grill the bacon until it's nice and crispy. At this point your dog will be following you around the kitchen in anticipation!
Crumble the bacon into a bowl. Allow your dog to eat the bits you've dropped on the floor and then add the beef, barley or rice, carrot and egg. Get a big spoon and give it a really good mix.
Use your fingers to press the mixture into the oven-proof dish or tin. Tell your dog (for the fifth time) that it's not ready to eat yet.
Put the cake in the oven. Go off for 45 minutes and play a few traditional doggy party games like 'fetch', 'tug of war with the cuddly toy' and 'chase the tail'.
Take the cake out and wait till it cools. Then, ice it with cream cheese to make it look a little prettier for when you take a picture for your human friends on Facebook, Twitter and Instagram.
Please remember that some foods just don't agree with our four-legged friends and you don't really want Fido feeling funny or Princess getting a poorly tummy! For example, cream cheese can be too rich for some dogs, particularly those with prone to pancreatitis or digestive upsets. You know your pet better than anyone, so there really is no one better to decide what your dog can or can't eat. If you aren't sure though, seek the advice of a vet or pet professional.
 The healthy alternative
If your dog hasn't been very well, has been a little bit greedy recently, or they're on a doggie diet to get them on the cover of 'Your Dog' monthly, you may prefer a more healthy alternative.
Here is our list of healthy treats that your dog will absolutely adore without the risk of putting on any unwanted pounds:
Sardines
Red peppers
Quinoa
Pumpkin slices
Throwing the perfect party
Why not give your dog a birthday to remember by throwing them a party? You could invite friends, family and, of course, their dogs to make it extra special.
Activities
Games: Wrapping a bone in gift paper gives your dog a fun activity with a tasty surprise at the end. Also, try hiding treats around the house, then letting your dog find them.
Presents: Buy gifts for your dog with them in mind. Is your dog going to appreciate a cute little outfit? Maybe. Would your dog love a new squeeze toy and a few tasty treats? Definitely.
Gift bags: Put a couple of toys and treats in party bags for people to take home for their dogs. You can even wrap up some of the delicious cake you made.
Whether it's a masterpiece or missing pieces, too amazing to eat or too funny looking for words, we'd love to see pictures of your completed cake. We'd also love to see your dog's reaction to their special treat!
Send your pictures to us on Twitter, Facebook or Instagram using #mypetparty and we can all have one massive doggy birthday party!
Recipe credit to wikihow. Image credit is given to: pirate: petful, Dorothy: Mike McCune, Maildog: istolethetv, Wonder woman: John Cameron. Please note that some dogs do not like wearing costumes. Make sure that the costume is suitable for your dog and has no parts that may cause harm to your pet. Please supervise your pet at all times when wearing a costume.