Dog grooming: How to find a good dog groomer near me
Grooming your dog at home is no mean feat, so you might need a dog groomer.
Unless you're very lucky, it's likely that bathing, brushing and overall maintenance of your dog's appearance on a regular basis can become quite a chore.
Yet, regular and proper grooming is imperative, not only for your dog's appearance but for the sake of his or her health.
Even if you're in a comfortable grooming routine at home, you might want to consider taking your dog to a professional groomer for a special treat or for advice to check you're doing the right thing at home.
The grooming process is also an ideal time to check on your dog's health – looking for any lumps and bumps on the skin or other abnormalities.
In this respect, using a professional groomer acts as a fresh pair of eyes and means there's someone who can offer a second opinion.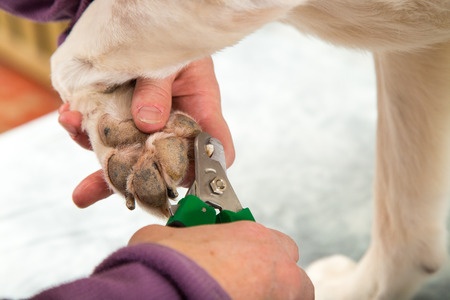 Decide if you need to visit a dog groomer
Many pet owners feel comfortable brushing and bathing their dog themselves and enjoy the fact it helps create a bond between owner and pet, particularly if it's carried out regularly from the puppy years.
However, some owners might decide that their animal needs or deserves to see a professional. Here's some things to think about:
Do you have the time to groom your pet regularly?
Do you have the space and correct tools for the job?
Do you know what to look for to check your dog's health?
Does your dog need their nails clipping?
Does your dog's fur become heavily matted?
Do you need medicated shampoo?
What should I consider when choosing a dog groomer near me?
If you decide to go to a professional, it's important to weigh up your options.
Just like any product or service, explore a variety of options and shop around for value.
Reputation is key – if you know any fellow pet owners, ask if they can recommend anyone.
Failing that, look for customer feedback or reviews on the internet. The best pet groomers will be shouting from the rooftops with satisfied customer testimonials.
Visit the dog groomer's salon in person to help you make a more informed decision.
It's a good idea to take your dog with you to help your pet familiar with the surroundings, should you decide to return.
Don't be afraid to ask questions about the groomer, their experience and any relevant qualifications and the way they work.
Here's some things to think about when making your decision:
Who will do the grooming – are there any other staff?
Are they comfortable working with difficult-to-handle dogs?
Does the groomer keep thorough records?
Is the salon clean and tidy?
Are pets kept safely separated while they wait?
How long will the grooming take?
Finally, and crucially, make sure you get a fixed price for the work. Different dog groomers will demand different amounts depending on the work that needs doing.
By visiting a range of dog groomers, you will be able to decide what is a fair price and how much you're willing to pay.
A good dog groomer will almost certainly have some questions for you, too, and will want to know as much as possible about your dog so that they can do a good job.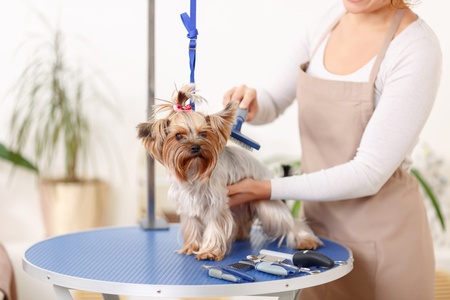 Prepare for your first visit
Once you've made a decision, you can get your dog ready for their big day.
For the health and safety of both dog and groomer, you will need to make sure all vaccinations are up to date.
Your dog is likely to be nervous on their first few visits.
This is perfectly normal but you can help by increasing the frequency of brushing at home in the days leading up to the visit to the groomer's.
Also, consider taking your dog for a walk near the groomer's salon. This will help them to become more familiar with the area and smells.
Tell the groomer about your dog and his or her needs.
Talk about the temperament, likes and dislikes and any health issues he or she has. If you have any concerns about your dog's health – if you've found a lump on the skin, for instance – tell the groomer about it.
Decide whether you will stay with your dog or leave them in the hands of the dog groomer. If you plan to leave, keep goodbyes short – hanging around and delaying your exit will not help.
Visiting the same dog groomer regularly will see your pooch become more comfortable. This makes the whole process less stressful for everyone.
It's important to find a groomer that's right for both you and your pet.