Does my dog need a dog winter coat?
Despite an assumption that owners just dress their dogs up to look good, dog coats are actually essential for some breeds in the winter.
If you're looking to buy your pooch a little jacket or coat to help them this winter then here's a complete guide on coats and dogs for winter.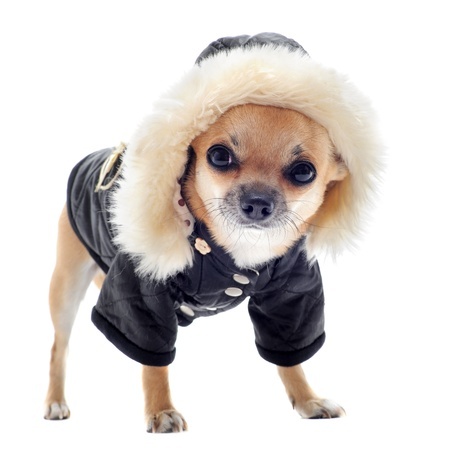 Who?
While you may think a dog coat is a sign of an over-indulgent owner this is not always the case. Some dogs actually require coats in winter; especially if we're suffering from particularly harsh or cold weather.
Small breeds require coats or jumpers when they are out and about in the winter weather. Chihuahuas, terriers and other miniature breeds are just some of the small dogs that will need extra insulation but it's also worth noting that short haired dogs will feel the cold a little more.
This means that larger breeds such as whippets and greyhounds could also benefit from a jacket or coat to add an extra layer of warmth when they're out and about.
When?
If your dog likes to be outside or you live in an especially cold area, it's also recommended that you invest in a coat or jumper for your pet. Even if you have a very large dog, remember they do not have thick fur all over and areas such as their stomachs are often hairless and have the potential to get a bit chilly.
With dog breeds which are accustomed to cold weather, vets tend to recommend against coats but if your dog is ill, injured or recuperating then they may feel more sensitive to the cold weather. Similarly, puppies and older dogs tend to feel the cold weather more and can therefore benefit from a thin coat or jacket.

What?
There are many varieties of dog coats and jumpers, although wool and fleece tend to be the most common. You can also get water-resistant coats which may be better in the snow or damp weather.
Whatever fabric you choose, ensure that it is sufficient enough to protect your dog from the cold. The coat should be a snug fit and cover your dog's stomach and end at the base of the tail. However, if your dog is male, don't get a coat that will completely cover his stomach as this will interfere with their ability to relieve themselves on walks.
The coat should leave your dog's tail and legs free so they can run, walk and relieve themselves without problems. Some coats have full length sleeves but your dog may find this harder to move in so choose a coat carefully.
Whatever coat you opt for, make sure it's comfortable for your dog and easy for you to get on and off the animal. Most coats and jumpers come in extra small, small, medium, large and extra large sizes but it's worth measuring as sizes can vary between retailers.
Why?
Nobody wants their pet to get cold, especially when out on long winter walks, so prepare for the winter months and invest in a coat. Coats aren't just there to make your dog look cute; they are practical too. Always consider how well a chosen dog coat or jacket will fulfil its purpose before investing in it and keep your dog warm and safe this winter.