What are the benefits of owning a pet as a child?
Although many people worry about bringing children into a house where there are pets, a recent survey has revealed that pets can have a positive effect on our children's health. This means that finding out you're pregnant doesn't mean you need to consider re-homing your faithful pooch.

Why a pet can be a wonderful addition to the family
If, like many, you grew up with a pet dog, cat, mouse or hamster, you'll know just how rewarding these little bundles of furry joy can be. Looking after an animal from a young age brings with it certain responsibilities and this undoubtedly helps us in later life.
From cleaning up after the animal, to changing its bedding, handling its exercise regime and ensuring it eats and drinks regularly – children will develop a lot of useful life skills when looking after a pet.
There are a number of reasons why pets can have a positive effect on our children. In some cases, parents will find that children often prefer to share their feelings with a pet as opposed to a human being. By doing so, this can help them cope with difficult situations or periods of emotional distress.
Such behaviour also encourages our little ones to develop feelings of sympathy. Nurturing an animal can also introduce a child to the idea of bereavement when a much-loved animal passes away.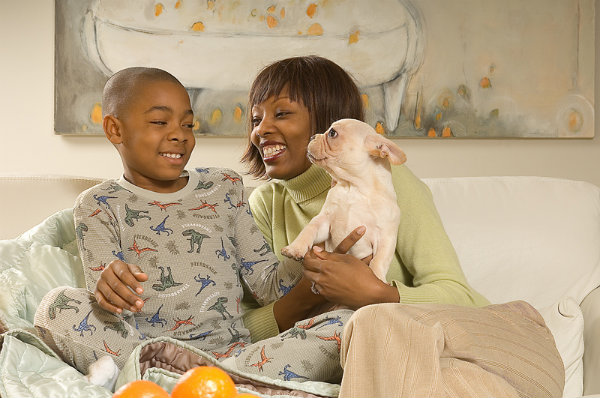 Homework and pets
A new survey conducted by the pet store brand 'Pets at Home' revealed some extremely interesting results surrounding children and pets. Out of the 1,000 children who owned animals that were asked (between the age of 5 and 16), 80% believed their furry friends to have a positive effect on their homework.
The same survey suggested that more than a third of those asked believed themselves to be more caring individuals, whilst one in five of those surveyed said they found it easier to talk to people and 34% felt an increased sense of responsibility.
The advantages
Pet ownership provides children with a number of advantages, some of which include greater fitness and increased levels of physical activity due to exercising with their animals.
They will also show heightened comfort levels during the likes of rehabilitation and recovery, and intensified nurturing skills.
Children between the ages of five and eight years have been shown to possess more stable immune systems, including lower levels of asthma and hay fever. When children are exposed to pets during the first year of their lives, they also seem less likely to develop allergies towards animals.
Choosing a family pet
If you don't already have a pet and would like to welcome an animal into the family home, it's important that everybody wants this. It's not uncommon for young children to tire of new things, pets included. If this does happen, then you as the parent will be left to look after the animal.
Looking after a pet can amount to a great deal of time and money so it's important you check you have the finances to accommodate such a commitment. Talk to your family about the type of pet you want and remember different animals require different levels of care and incur different costs.
Smaller animals such as fish, hamsters and guinea pigs are relatively low maintenance and cheap to look after, while cats and dogs are more expensive and require more input from their owners.