How pets can benefit the elderly
It is widely acknowledged that pets benefit us a great deal. From their loyalty and protection to their love and affection, it is safe to say that having a pet can improve our lives.
While we could all do with a bit of protection, love, loyalty and affection, sometimes it is the elderly that need these things most. Pets make great companions and are constantly on hand to keep you company, perfect for the elderly who often live alone. Not only do pets make great friends, they are also proven to reduce stress and anxiety, lift depression and generally improve quality of life and well-being.
One charity dedicating their time to helping connect elderly people with pets is The Cinnamon Trust. Here we look at their great work in more detail;

The Cinnamon Trust
This Cornwall-based charity is the only one of its kind that supports the elderly and their much loved pets. In fact they help 32,142 people a year and 41,342 animals. They do their best to keep the pets and their elderly owners together by helping in ways such as offering to walk the dog, picking up cat food or cleaning out the bird cage.
In the unfortunate event of an owner having to go into hospital, the charity will even organise foster parents for the pets. If the owner is unable to come back home, The Cinnamon Trust will help find retirement housing and care homes that allow the pets to remain with their owners. They will even find lifetime care for the pet if the owner's residential home won't accept pets or if the owner passes away.
These arrangements are, when possible, made in advance so that the owner can enjoy their pet with peace of mind that it will be looked after when they can no longer look after it themselves.
Audrey and Penny's Story
Penny is a 10-year-old cocker spaniel who went through a trauma when her elderly owner died. At the same time Audrey, who is blind, lost her oldest dog. She contacted The Cinnamon Trust who put her in touch with Penny the dog. Now they keep each other company and go everywhere together.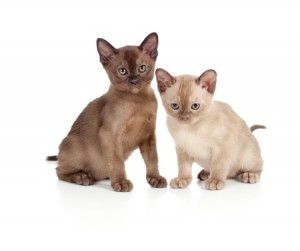 Bonny, Clyde and Poppy's Story
Three Burmese Cats – Bonnie, Clyde and Poppy were devoted to one another and their owner Anne. Sadly, Anne was admitted to a hospice and the cats had to go to a Cinnamon Trust sanctuary.
The sanctuary regularly sent pictures and letters to Anne that showed how well the cats had settled in to their new home and how they still enjoyed doing all the things they used to do with Anne, making both Anne and the three cats happy.
Offering help
The trust was founded by Averil Jarvis in 1985 who named the charity after her own beloved dog, Cinnamon, who died just as she was building up the charity.
The Cinnamon Trust is made up of 15,000 volunteers and they also run two sanctuaries, in order to carry on their good work and support for the elderly and their pets, they need your help. Visit their website to find out how you can offer your support.