How to make a dog Christmas jumper
Do you enjoy dressing you furry friend up in seasonal and holiday outfits?
Well, now is a great time to make a dog Christmas jumper to celebrate the festive holiday season. Not only are they designed to keep your dog protected from the elements, they'll allow your precious pooch to show some festive flair and bring out their Christmas cheer.
Why not make sure your pet isn't left out this Christmas by creating their very own dog Christmas jumper?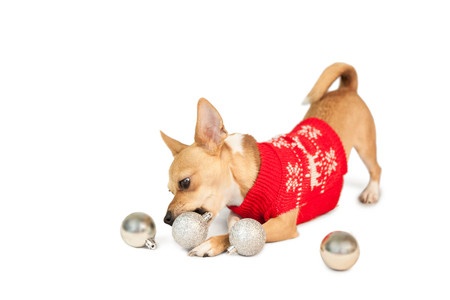 Add personalised touches and make this activity the ultimate family affair. Not only does creating your dog Christmas jumper keep your furry friend warm, by including your whole family in the activity it can help to create more special, lasting Christmas memories.
It doesn't have to be complicated- with a little bit of effort, you can turn your dog Christmas jumper activity into a lifetime of funny stories and lasting memories. Watch this video and have fun styling your dog this Christmas!
How to make a dog Christmas jumper
Where to buy dog Christmas jumpers
Not interested in making your own jumper? Don't worry, here are a few places where you could find the perfect dog Christmas jumper.
Get your pooch in the festive mood with a red colourful Santa Claus Christmas jumper. Easy to put on and take off, this jumper is perfect for your canine friend. Rudolph the red noise reindeer has nothing on your dog.
Or try out an antler hood jumper and keep your pooch warm and festive this Christmas.
Or make your dog the perfect Christmas helper with a green jumper and red and green hat, complete with a red pom-pom on top.
Whatever outfit you choose, make your pooch stand out at Christmas!