How to prepare for and care for your pets during storms?
Unlike other parts of the world where extreme weather has been the norm for years, in the UK, people generally aren't accustomed to floods or hurricanes so don't have an emergency plan to put in place when they occur.
With the recent flooding in the south-west of the country and other extreme weather conditions in recent years, it is necessary to have a plan in place in the event of unexpected conditions hitting.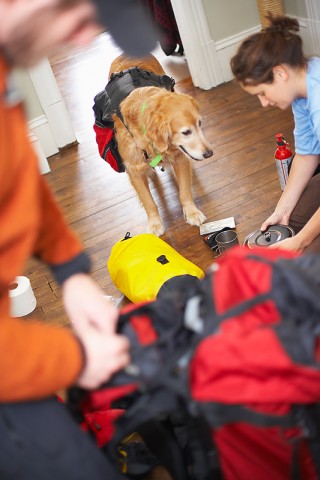 This isn't just necessary for people but for their pets as well.
Sitting it out
In some cases, it may be safe to simply sit out a storm until it passes rather than launch into an evacuation. If this is the case, pets will probably be frightened of the weather outside. In most cases you should let your pet, in particular cats go off into any nooks and crannies in which they can hide and feel safe as this is their natural reaction to danger. However it is important to know where your pet is, having pets close at hand is necessary in case an evacuation becomes necessary.
How to be prepared during storms
Whether someone lives alone or within a family, it's important to establish an action plan for when disastrous weather occurs.
It is important to have a list of what exactly is needed if it is necessary to evacuate. This will include food, medical supplies, clothing, toiletries and basics such as a torch, mobile phone and if possible, a small camping cooking kit.
If feasible, it is a good idea to have this kit ready and stored somewhere safe so that if there is an emergency, it is ready to go. The same applies for pets and storms. Pets should have food and water for a minimum of five days, medication and medical records, leads and carriers, plastic bags and newspapers in order to collect pet waste.  Information about feeding and medication schedules in the event that owners and animals are separated if boarding with a vet or trusted friend is also critical.
Extras that could help are toys in order to help reduce pet stress.
If a situation is dangerous enough for people it is risky for animals to. It is a good idea to take pets along as it is usually impossible to know how long an evacuation may last.
Accommodation
Check what facilities are available locally to house pets if there is an emergency evacuation. The last thing anyone needs when having to leave their home in a hurry is finding out that the local shelter will not take pets.
Pet ID
One of the most important things a pet owner can do in order to protect their animal's safety is to organise proper ID.
It is necessary to ensure that a cat or dog is wearing a collar with up-to-date identification which is easily visible including a phone number. If it is viable, include the number of a friend or relative who lives outside the danger zone for extra security.
Having a pet micro-chipped will greatly increase the chances of being reunited if separated so this is something which should also be considered.