How the Support Dogs charity helps to change lives
A national charity based in the UK, Support Dogs is dedicated to helping people live with various medical conditions with the aid of four-legged companions. Specialist assistant dogs are trained by the charity and they target a vast range of medical complaints.
Here we look at the great work of this charity, shining the spotlight on just one of its many successful case studies.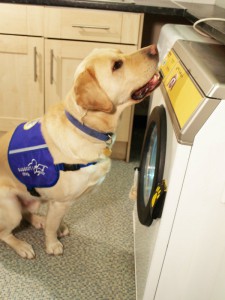 Carol and Billy's story
Now a local celebrity in his home town, Carol's Disability Assistance Dog, Billy, wasn't always so famous. Before Carol sent him to be trained by Support Dogs, he was a normal pet pooch. Unfortunately, Carol suffered mobility problems which severely limited her day-to-day life. Based in Preston, she sent Billy off to Sheffield to be trained as a Disability Assistance Dog by the charity after seeing their advert on the TV. Although she was initially concerned that Billy would lose his character and personality during training, she was pleased to find that the dog which returned was her familiar companion – just with a few extra skills.
Now, Billy can help Carol to get undressed, pick things up for her and even unload the washing machine. These may sound like simple acts but they mean a big difference to Carol. She claims to be amazed by the things Billy can do each and every day and still recalls the time when he first returned home from training and picked up her heavy crutch – despite only being a small dog. With Billy, Carol feels confident enough to go out shopping – something which previously posed many difficulties. Outside of the physical care and support, Billy also looks after Carol's emotional needs. On days when she is in a lot of pain, his comforting presence helps to soothe her and he has even learnt to predict her needs so that she always safe. He turns the lights on at night when it gets dark and cuddles up to her back when she's in pain – using his body heat as a comforting blanket that helps dull the pain.
More than this, Billy has given Carol complete protection and care. When she collapsed in the garden, Billy made his way to her carer's house on the same street to bring her assistance. The remarkable thing about this story is that Billy had never been to the carer's house before and had no idea where she lived. Carol is understandably proud of her pet and the marvellous work he does for her every single day. She'll happily tell you that Billy has saved her life – in more ways than one.
The work of Support Dogs
The above is just one example of the great work which Support Dogs do. Their trained dogs help individuals of all ages overcome the limitations of their disability or ailment and can be used to improve the life of those suffering from:
Physical disabilities
Epilepsy
Autism
The charity receives absolutely no government funding and relies solely on fundraising and donations. They also work in partnership with Guide Dogs for the Blind.
Visit their website for more information on how they can help you or how you can get involved in this worthy cause.