Keeping your Pets Warm In Winter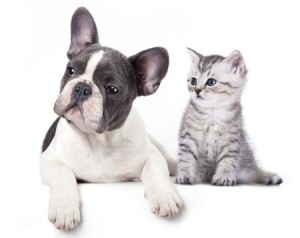 Winter is well and truly here. We're all wrapping up warm in our coats and scarves ready to face the elements. But it's sometimes easy to forget to need to keep our pets warm in the winter. They might also be feeling the chill, even in their own little fur coats!
However, our four-legged friends do feel the cold. Shorthaired breeds such as Greyhounds and Siamese cats are especially susceptible to cold-related illnesses such as frostbite and hypothermia.
No matter what breed of dog or cat you have, it's always important to make sure they're kept nice and warm both in and outside of the home. Here are our tips for keeping your pets warm in the winter:
Dog Coats and boots
Far from just a fashion fad, coats and boots for dogs can keep them nice and warm in the cold weather. When you're choosing a coat for your dog, make sure it covers the body adequately, isn't too long and doesn't obstruct their movement.
Boots, while they might look funny and cute, also serve a very important purpose. Rough, cold or chemically treated surfaces can cause irritation to a dog's feet. They can also get very cold when walking through snow, so it's a good idea to keep them protected if you can. Make sure the boots fit securely to prevent them slipping down or coming off during walks.
Towel-dry after walks
If your dog doesn't like wearing coats and boots, the next best thing you can do to keep them warm is towel-dry their feet and fur thoroughly after a walk in the snow or rain. This will help warm them up and prevent them from becoming uncomfortable from damp or wet fur. After you've dried them, take them into a warm room and allow them to warm up gradually.
Staying indoors
While dogs love and need their outings, keeping them indoors during the worst of the winter weather is the best way to make sure they stay nice and warm. Understandably, this is more difficult with cats, as they regularly go outside no matter what the temperature. If you have an outdoor cat, make sure they have easy access back into the house at all times in case they get too cold.
Dog jumpers and t-shirts
Breeds like whippets and greyhounds tend to feel the cold more than others, so an old t-shirt or dog jumper can be perfect for keeping them warm during the night when the temperature drops to its lowest. Other dog breeds can wear jumpers too, but make sure you keep an eye on them to look out for signs of discomfort, as they can just as easily overheat.
A good pet bed
As well as warm, cosy bedding, your dog or cat's bed should be kept at least three inches off the cold floor during the winter to avoid chills and cold draughts. A simple piece of thick wood can serve as a good platform to rest their bed on; it doesn't need to be anything fancy. Try to avoid placing their bed near draughty windows or doors too.
Remember, you can find lots of cosy pet beds and coats over at argos.co.uk
To find out more how Argos Pet Insurance can help insure your pet, visit www.argospetinsurance.co.uk