Happy National Dog Day: Here are 10 heroic dogs to celebrate
On Saturday 26th August it's National Dog Day, a day to celebrate all dog breeds because, let's face it, dogs are great and deserve dog days!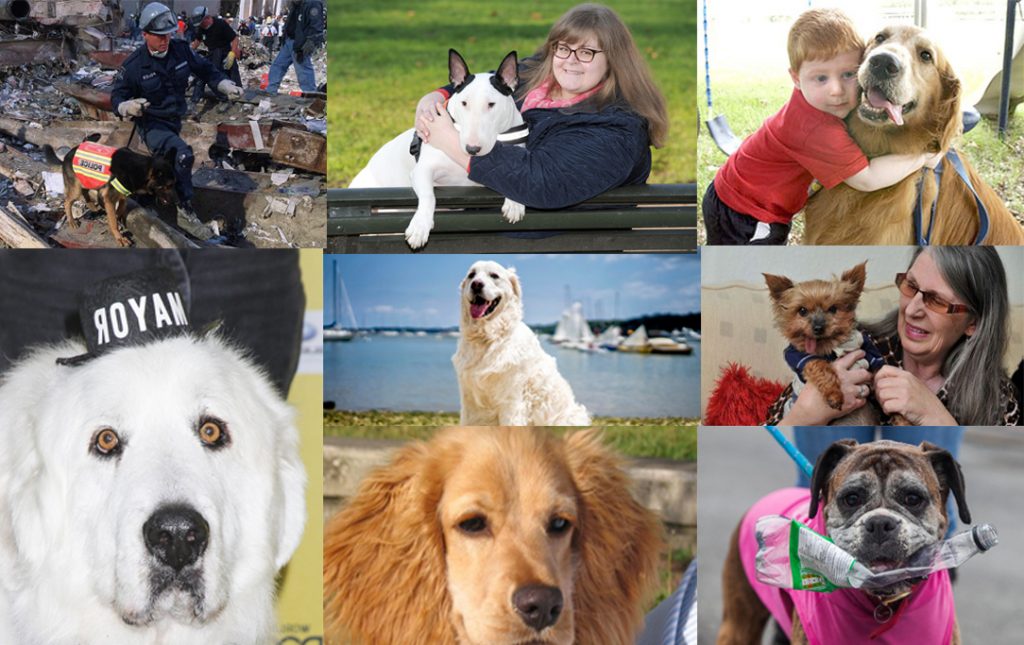 Dogs are man's best friend and provide unconditional love, support and loyalty to many. They always try to do their best to please you, and always keep you smiling. They provide comfort at times of need, companionship on cosy nights in – and they'll never judge you!
So, in honour of National Dog Day, we've compiled a list of eight incredible dogs and their amazingly heroic stories:
Honey, a little dog with a big heart
Honey the Cocker Spaniel rescued her owner after he reversed his car off a 45-foot drop and into a ravine. After escaping from the car several hours later, Honey managed to get the attention of a passer-by and led them to the car to help rescue her owner. What a remarkable little pooch!
Trakr, one of history's bravest dogs
Trakr, a German Shepherd survivor detection dog, found the last survivors of the September 11th attacks on the World Trade Centre. TIME magazine named Trakr one of history's most heroic animals – and we agree!
Paris, the litter-picking hero
Paris is a Boxer dog and likes to help tidy up the streets of the UK by picking up litter and depositing it in nearby recycling bins whenever she goes on her walks. Her owner says that she's always been a litter-picker, despite never being taught to be one. We can see this little pooch is a keen advocate of protecting the environment!
Duke, the perfect example of democracy
Duke, a Great Pyrenees, was a dog mayor! He was re-elected to serve as a mayor of Cormorant (in the US state of Minnesota) for a third consecutive term after holding the position since 2014. It's been reported that Duke secured nearly all of the 1,000 residents' votes. His policies must be very popular!
Storm, the animal-rescuer
Storm, an English Golden Retriever from New York, was out for a walk along a beach when he spotted a fawn that was in trouble in the water. Living up to the name of his kind, Storm grabbed the stranded fawn, pulling it to safety. The fawn is now on the road to a full recovery and is being cared for in a local animal rescue centre. What a clever boy!
Bowser, the lifesaver
A Bull Terrier from Lincolnshire, Bowser saved his owner after she collapsed at home with multiple sclerosis. Bowser managed to get the attention of a nearby neighbour who rang for help. This owner has her doggy to thank for saving her life that day!
Louie, the well trained pooch
Louie, a little Yorkshire terrier, saved his owner when she passed out on the floor from a long-term illness. Louie's owner had taught Louie how to press the panic button in the past. When Louie saw she was unwell, he pressed the panic button and barked down the phone to raise awareness of the situation. How smart can a doggy be!
Brutis, the snake catcher
Brutis, a Golden Retriever, became a hero when he snatched up a coral snake that was slithering towards a little girl. After saving the little girl from a fatality, he flew to LA to receive the National Hero Dog award. Hats off to Brutis!
If reading these heroic stories for National Dog Day hasn't melted your heart, we don't know what will! Although it's clear that these doggies don't feel fear, it's up to their owners to keep them safe and free from harm.
Make sure your furry friend has insurance for any unexpected life events. Get a quote with Argos Pet Insurance here.
Argos Limited is an Appointed Representative of Home Retail Group Insurance Services Limited, which is authorised and regulated as an insurance intermediary by the Financial Conduct Authority.