How to deal with cut pet paws
As we wave goodbye to winter and welcome in the spring, your pets start living it up outdoors and circulating more. You're out walking your dogs more and it may even inspire dietary changes to shift those wintery cuddly bits. That's all great, until something goes wrong.
Cut paws are a nuisance and can make us think 'I haven't time to deal with this' edged with a tinge of guilt for thinking it in the first place.
Here's some advice until you can check in with your vet. For added piece of mind, customers of Argos Pet Insurance can contact the free 24 hour vetfone helpline.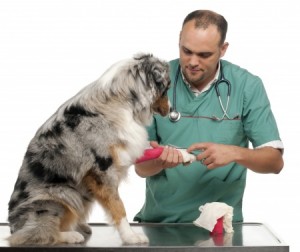 Tips to deal with cut paws
Pets are great at getting themselves into all sorts of mischief. They can accidentally stand on glass or rip a nail. Or you might cut their pad with scissors while attempting to be Vidal Sassoon clipping the long fur on their feet. These all result in the same problem. You need to stop the bleeding and protect the wound. Here comes the how:
Flush the cut with saline or water to remove any dirt from the area. DO NOT remove any object stuck in there, as this is helping to stem the bleeding… let the vet sort that bit.
Prevent further bleeding. Apply digital pressure (i.e. by the fingers) with gauze/any clean material for 5 minutes.
Don't push the object further in – apply pressure around it.
Cover the wound and bandage see the picture below.
If bandaging equipment is not available, control the bleeding and cover with a sock, glove or small plastic bag and tape it on.
Then you should contact your vet.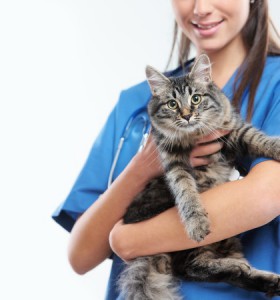 Essential items for a pet first aid kit to keep in the car or house
Sterile saline solution
Gauze pads
Vaseline-impregnated wound dressing
Cotton wool, bandages, outer protective wraps, plastic bag
Micropore tape
Extra swabs or cloths to help stem bleeding
A pre-cut long length piece of bandage which you can use as a muzzle if needed or tourniquet
Scissors
Gloves – the latex kind, not leather
Cling film
Space blanket or bubble wrap
Your vet's phone number and emergency contact details
Pen and paper to write down any instructions