Travelling with pets: What to do and when?
The UK has confirmed its status as a nation of animal lovers as a poll found that two in five people now travel with their pets.
Of the pet owners that choose to leave their furry friends at home, almost half (47%) admitted that they miss them more than their family.
Taking your four-legged friend on holiday can really add to the fun, and will ensure you relax instead of worrying about them while you're away. However, pet travel does mean you'll need to do a bit of planning.
This helpful checklist will make sure you're prepared for travelling with your pet.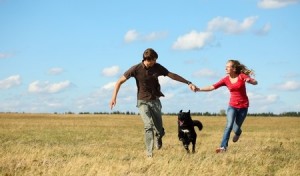 Up to 12 weeks before
If you are travelling to the European mainland, your pet needs to have a rabies vaccination three months before you travel. You must also check that your pet is up to date with their annual vaccinations.
Travelling outside of the UK is now easier for your pet as they don't usually need to be quarantined, but they will need their own Pet Passport. Speak to your local vet about obtaining one.
You might have already bought your travel insurance, but have you thought about pet insurance cover? Even if you have a policy in place for your pet, make sure it includes the cover you need for wherever you're travelling.
Four weeks before
In order to travel legally, your pet must be contained in a secure carrier. Make the journey as comfortable as possible by ensuring it is big enough to allow your pet to stand up, sit, lie down and turn around.
It is advised that you get your pet microchipped even if you're not travelling. If you are, it's all the more important as it makes it easier for them to be tracked if they are lost in a foreign location.
You can find some great pet travel products from Argos, take a look here.
One week before
You might think to skip a tag if your pet is chipped, but a tag is a quicker and easier way to reunite you with your four legged friend, so make sure you have a working contact number on there. If you'll be using a different phone number during your travels then make sure the tag is updated too.
Many pets, particularly cats and dogs, become nervous or anxious when they are travelling. You can buy supplements and sprays to help calm them down, but starting out with short journeys will also help.
If you're travelling with a dog, it's best to secure them in the car to prevent them roaming around to distracting you when they get excitable or bored.
One day before you go
You should have plenty of water packed in the car as your pets should have access to water at all times. You can buy collapsible bowls that are ideal for travelling.
If your pet will be secured in the carrier for your journey, make it as comfortable as possible by lining it with their blankets. Don't forget to take their bed for when you reach your destination too!
Some dogs will just snuggle down for the trip, but others need constant distraction and stimulation, so be prepared with some toys. They'll also come in handy while you're away.
The very last thing you want on your holiday is to be caught short without any poo bags so make sure you take plenty with you.