Puppy care essentials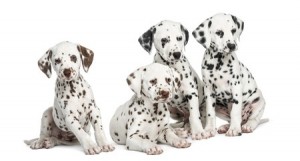 So you've finally decided on your new puppy after reading our blog. Now the preparation begins to welcome him, or her, into your home. But an issue faced by many new owners is how to look after a puppy. What puppy care essentials will your new addition need to help them settle in?
Creating a comfortable environment for your pup
When bringing a puppy home it's essential to provide them with a safe and comfortable place to sleep. Being away from their mothers can be a very scary and daunting experience for your new addition. Providing a puppy bed with lots of bedding and pet-friendly blankets can make your pup feel like they are back with the security of the litter. A large crate may also ease your new companion into the home. It provides them with an environment where they feel safe and sheltered.
Remember a full-bellied pup is a happy pup so buy two bowls, one for water and one for food. Stainless steel bowls are best for pups that may be prone to tear stains. This reduces a chance of a reaction with the food and a build-up of bad bacteria that can harbour in plastic bowls. These bacteria can increase the chances of your pet's tear ducts becoming aggravated and as a result increase the amount of staining on your dog's face.
Keeping your new puppy happy
The best way to keep your new puppy happy is to provide them with lots of love and affection. When bringing your new pet home have some dog toys for him to play with. This will help you to build a bond up through play. Five toys that can be rotated frequently to reduce boredom should be enough at first.
A chew toy is can help puppies through those pesky teething stages which cause irritation on the gums. A plastic ring, which can be put in the freezer can help soothe their gums.
Cleanliness & hygiene
Let's face it from time to time your new pup is going to get mucky. This might be from being outside in the rain, walking through mud or rolling in something smelly. It's wise to stock up on puppy shampoo. After their bath it's good to give your pup a groom so make sure you have some brushes to keep their coat healthy and avoid matting in long-haired dog breeds.
Accidents do happen so it's good to promote good dog hygiene by having an anti-bacterial spray handy to clean up after puppy messes and eliminate smells, which may encourage your pet to mess indoors and cause a problem with the toilet training routine.
Puppy health 
Regular walks and exercise will ensure that your puppy stays in good health. Walks also help to socialise your puppy to the world around them by being introduced to new sounds, smells, people and animals. Make sure that you have a lead, harness and plenty of poo bags ready, but remember do not let your puppy outside before having them immunised against the deadly parvovirus. You will also need to make sure that you have a collar and ID tag for your puppy as it is a legal requirement for them to wear these outside of your home.
It is essential that you register your new puppy with a vet so that if any problems arise they can be dealt with straight away. They will also have regular access to their flea and worming treatments which will prevent them from picking up nasty illnesses.
Remember that if you are taking your new puppy to the vets for all of their puppy injections and health checks these vet bills can soon mount up. Make sure that you have insurance to help cover the cost of your vet trips. Find out more about covering your pet with us at, www.argospetinsurance.co.uk.