Did you see our Argos Pet Insurance TV advert?
Have you seen our recent TV advert featuring our very own star pets Moll, Jess and Dolly? They took time out of their busy acting schedules to take part in our TV advert to help pet owners understand how Argos Pet Insurance can help them avoid hefty vet bills. We certainly wouldn't be surprised to see them strolling along the red carpet at the Cannes Film Festival in 2014!
Did you manage to guess whose voice it is in the TV advert? You're right if you guessed Antony Cotton, who stars as Sean Tully in Coronation Street.
An interesting fact is that he's actually appeared in over 900 Coronation Street episodes!
We worked with Antony because he's passionate about pets himself. Here's a picture of his pooch – Taxi!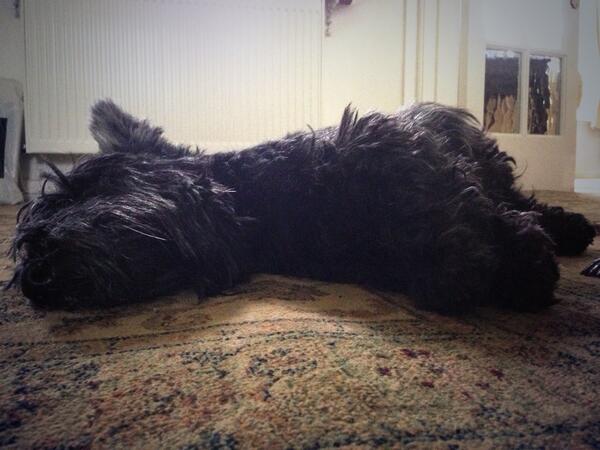 Taxi relaxing
As Antony explains in our TV advert, we have three different levels of cover that protects animals of all shapes and sizes meaning you are able to find the right cover to suit your pet as well as your pocket. The aim is help you feel completely at ease – even if your pet becomes ill or is involved in an accident. We even provide a freephone 24hr hotline, named Argos vetfone, where you can speak to a veterinary nurse for advice you can rely on.
As well as all this, when you choose Argos Pet Insurance you also receive a £20 Gift Voucher to spend on Argos products across the entire range – that is of course if you can steal it away from Dolly.
We hope you loved the advert. Tweet us @ArgosPets with the hashtag #ArgosPets to let us know your thoughts.