Spring cleaning that is safe for your dog
Though dogs like to live in clean, uncluttered homes, some of the chemicals contained in cleaning supplies can actually harm their health, weakening their immune systems and potentially exposing them to a variety of illnesses and conditions.
Luckily, there are some great alternatives available.
So, if you want a clean home and a happy pet take a quick look at this guide before you roll your sleeves up and get stuck in to your spring clean.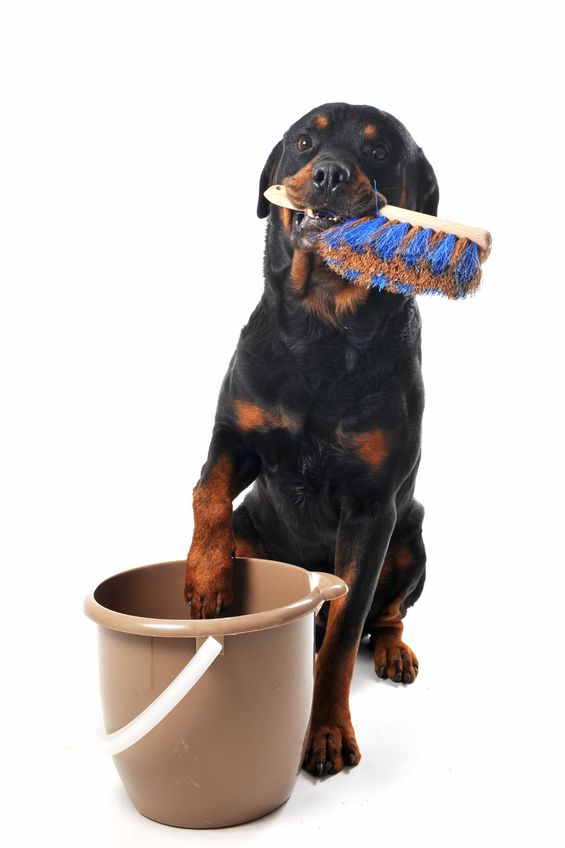 Mirrors and windows
Most of the time you won't need any sort of cleaning solution to make your mirrors sparkle. Simply use a dry tea towel, a few splashes of water and a bit of elbow grease to remove any marks.
If oily fingers, food spills or doggy slobber have left their mark on your windows or mirrors, try mixing ½ teaspoon of Castile soap with three tablespoons of vinegar and two cups of water and apply it with a clean, dry cloth.
All purpose spray cleaner
For most spills, accidents and general wear and tear around the home, a few drops of Castile soap mixed with two cups of water should be sufficient.
Place the mixture in spray bottle to make it easier to dispense when cleaning.
Furniture polish
Though keeping your furniture in good condition when you have lively dogs in the house can be difficult, we have a solution to ensure furnishings look shiny and clean.
Simply mix ½ teaspoon of olive oil with ¼ cup of white distilled vinegar or lemon juice. The oil will help to condition the wood while the lemon juice or vinegar will lift dirt and light stains out of the wood leaving you with bright and clean surfaces.
Sinks, tiles, pots and pans
One of the best things for cleaning your sinks, tiles, pots and pans is baking soda.
Add it to water for instant cleaning power. If you need a little more oomph, add a few drops of Castile soap to the mix and watch those tough stains and marks melt away.
Carpet deodorizer
Though dogs are undeniably loveable, they are also occasionally a little smelly and most dog owners will notice their carpet develop a bit of an odour over time.
To remove the smell and leave your home feeling clean and fresh, simply sprinkle some baking soda and crushed lavender on the carpet, leave for 30 minutes and then vacuum.
Dog specific problems
If your dog has an accident in the house, use a mixture of 50/50 water and vinegar to clean it up. The sooner you clean the urine or faeces, the less likely it is to stain and the easier it will be to remove.
Switching from traditional to animal friendly cleaning products is great for your dogs, the environment and your monthly cleaning budget. So why not buy yourself some vinegar, baking soda and Castile soap now and see what you can do?