Dog activities for you and your pet in summer
As the summer brings the hot weather, it's a great time to get out and about with your pet pooch. Although going for regular walks (during the cooler parts of the day) is fun for the whole family, sometimes the same old routines can get stale.
To shake things up this summer, read on for a selection of fun dog activities you can both enjoy.
Go on a hike
As well as regular trips to the park, hikes with the whole family can add some much needed variety to your pet's exercise routine. Always remember to take things easy during hot spells, walking before 10am and after 2pm to avoid the most intense temperatures of the day and carrying plenty of water.
Break up long walks with play sessions to allow your pet to cool off and relax.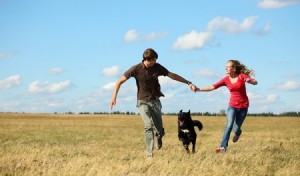 Take a camping trip
With a multitude of dog friendly sites up and down the country, it's easier than ever to involve your pet in your summer vacation. Get back to nature with long walks and picnics in big green spaces. Your dog will love the chance to sniff some new air and stretch his legs in a totally different environment.
Visit the beach
Summer isn't complete without enjoying a bit of sand and sea. Whether you live close to a beach or fancy a nice day trip, provided you plan in advance, there is absolutely no reason not to take your pet along for the ride.
Make sure to secure your pet during long car rides by fitting them with a dog harness, provide plenty of water for the journey and take regular comfort breaks to prevent your pet having an accident.
Your dog will love skipping along in the surf, chasing the waves and trampling sandcastles with you at his side and it's a great way to get all the family involved.
Go swimming
Whether you fancy a dip in the sea, a local pool or a lake, when temperatures soar one of the nicest ways to cool off with your pet is a quick dip. Play games with floating toys, race your pet back and forth and enjoy splashing around in the summer heat.
Doga
It might sound mad, but Doga (yoga for dogs) is just one of the many classes you can enjoy with your pet. With classes ranging from simple to more involved, take your four-legged friend along to a pet class and try something new this summer.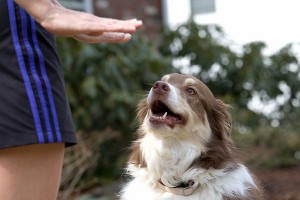 Join an obedience class
Even for the best behaved pooches, an obedience class can prove to be a stimulating and worthwhile activity. Speak to your local vet or animal charity to find classes and events where your dog can improve their skills, agility and physical health.
Since exercise is important for both physical and mental wellbeing, classes like this are not only a great way to let off steam but an excellent way to socialise. Enjoy being put through your paces this summer with this great excuse to engage in some new challenges with your pet by your side.