The first 12 weeks of owning a puppy: Diet & exercise
When adding a new puppy to your household it is important to ensure you know how to care properly for your new family member.

A puppy's dietary requirements
A puppy's diet is extremely important for their growth and development. Firstly you should ask the breeder or rescue centre which food they have been feeding them, as it is a good idea to initially continue using the same familiar food (for at least the first few weeks.)
The puppy should be fed 4 times a day until 12-14 weeks old, then three times a day and reducing to two meals a day over the next few months.
Puppies have very small stomachs which can be sensitive, so change should be introduced gradually to allow the puppy to become familiar with the new dietary regime. The type of puppy food fed is often the owner's personal preference and some people like the variety that wet food provides. However dried food helps to prevent tartar build up on the teeth of adult dogs, thus helping to save extensive dentistry work in the long term. Dried food can also be easily bought in bulk and comes in a wide range to match all stages of a dog's life.
Dietary requirements are different for large breed puppies and there are diets available which ensure optimum nutrition for growth.
If you choose to feed your pet dried food it is important to provide plentiful fresh water alongside.
If you notice that your puppy does not eat or develops vomiting and diarrhoea, contact your vetfone helpline or your veterinary surgeon for advice as soon as possible, as young animals can become very weak, very quickly.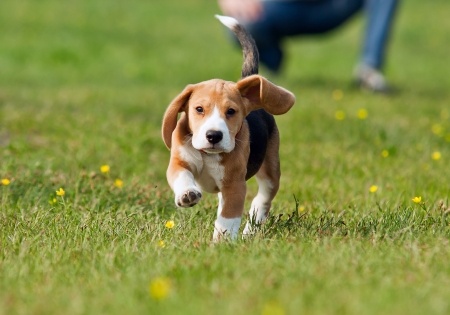 Exercise Recommendations for a Puppy
Once your puppy is fully vaccinated and the vet has said it is safe to begin walking him or her, then you can start exercising your puppy in the outside world.
Start with little walks and bear in mind your puppy may be nervous and need reassurance as it's a big world out there! Traffic, other dogs and lots of exciting smells may distract and confuse your puppy. It is a good idea to walk your puppy on both pavement and grass, so that he/she gets used to different feelings under his/her paws. Also a good tip is to talk to your puppy on the walk; this gives reassurance and will build your puppy's confidence.
If your puppy is a large breed, check with your vet about the amount of exercise they should be having, as it is possible to over exercise them and so damage their joints and lead to lameness in adulthood.
Remember, walks are something your puppy will look forward to and be an integral part of his/her daily life for ever, as well as providing daily exercise for you as an owner too! Do remember to be a responsible owner and carry a supply of poo bags!
Puppies are wonderful fun pets and the groundwork you put into these early stages will establish a loving rewarding relationship with your adult dog for many years to come. You will have a friend for life when you become a dog owner and there are huge benefits for you both.  So good luck and enjoy your new venture!