Top 10 Christmas gifts for your pet
Be honest. A part of you feels silly when you include your pets on your Christmas shopping list. However that doesn't stop us! We all end up spending some festive cash on our furry, finned and feathered friends.
If you're tired of the cat nip mouse and the dog chew, the following ideas may help you pick up a delightful pet pressie!
1. Grooming kit
A grooming kit is both a loving and practical present for both you and your cat or dog. A standard kit will contain all shampoos, combs and brushes, toys, a nail cutter, flea remedies, a towel and ear powder. It may include an attractive collar as well. However, it is very important that a dog grooming kit is not used on a cat as the flea treatment could be fatal.
2. Self-warming dog bed
A self-warming bed is one of the best gifts for dogs, especially those with arthritis or sore muscles. How it works is it radiates a dog's body heat back keeping it nice and toasty all night.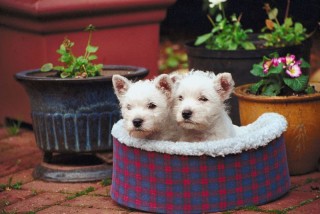 3. Water fountain
Cats and dogs prefer flowing water over liquid that has been lying around in a dish for hours. A water fountain keeps things moving with filters to keep out impurities and unpleasant flavours.
4. Mouse cat playground
Get your cat the ultimate playground this Christmas. This play set will keep your cat entertained for hours.
5. Automatic pet feeder
Keep your cat or dog happily fed while you are out with an automatic pet feeder. Food is dispensed at pre-set times and intervals.
6. Canvas travel bag
Let you pet travel in style with a new canvas travel bag. Canvas bags come with carry handles and shoulder straps – transporting your pets has never been easier.
7. Leather dog coat
Keep you little dog warm this winter in a smart leather dog coat. This jacket has a faux fur lining that'll keep your pooch extra warm.
8. Dog treadmill
If the weather is terrible or you aren't well, the last thing you want to do is take your dog out for a walk. A doggie treadmill is the answer! This may seem indulgent but a tired dog is a better-behaved dog so do everyone a favour and consider this gift if walking is a problem.
9. Festive door hanging
This just might lure your cat away from the baubles on the Christmas tree. A Santa or reindeer door hanging with all the dangling bits is fun for your cat to play with while still looking seasonally decorative.
10. Cat scratcher and bed post
Cats love being the King or Queen of their castle. So why not invest in a scratching post with a bed at the top. Give you cat a pedestal to sleep on this Christmas.