Top 5 considerations when dog walking in the countryside
There's nothing like a leisurely stroll in the countryside to put your four-legged friend in a good mood. With a wealth of dog-friendly walks across the UK you'll be spoilt for choice when it comes to areas to explore with your canine companion.
But before you head out to enjoy the delights of the British countryside with your dog, it's important to plan your journey and understand the steps you need to take to respect the beauty of the UK's natural surrounds.
Below are the top 5 considerations to take into account when walking your dog in the countryside.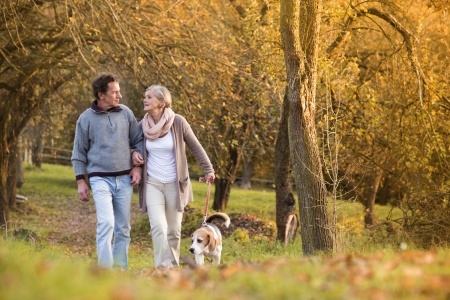 1. Choose a location that's right for your needs
Finding the right spot for you and your dog to take an amble in the countryside is all about location, location, location. Rather than just chancing upon the nearest field or returning to old holiday haunts, why not choose a stretch of the UK countryside that has been designated as dog-friendly? The National Trust lists a number of locations where mutts will be happy to get their paws muddy, while tourism websites for locations such as visit Pembrokeshire also list dog-friendly beaches in the area.
2. Preparing your dog for their countryside walk
Taking your dog to a new area for an extended walk will expose them to a number of new sights and sounds. In order to ensure that they are prepared for what lies ahead, you may want to carry out a trial run in an area of countryside or woodland that you're familiar with. As part of this process you may want to practise some effective recall methods, which will prove particularly handy in areas where your dog can be off lead – such as public paths.
3. Planning your journey
When planning your journey to your dog-friendly stretch of countryside it's important to consider how you will get your dog from A to B, and what measures you'll keep in place to keep them occupied on their journey. If you're planning to travel by train it's important to check with individual route operators to see if there are any restrictions on travelling with your pet. As a general rule a maximum of two small animals – which includes dogs – are allowed to accompany owners on their train journey free of charge.
4. Come prepared
As you may be away from your vehicle or access to facilities for long stretches of time on your countryside walk it's important to pack a few essential items in your backpack. This could include a plentiful supply of plastic bags, a collapsible dog bowl, a doggy treat or two and anything else that you feel will be helpful along your journey.
5. Observe the Countryside Code
The Countryside Code outlines a number of rules that countryside lovers should observe when visiting their favourite stretches of greenery. This code also specifies a number of responsibilities that should be undertaken by dog owners in relation to their pets, including the fact that dogs must be kept on a short lead when travelling over open countryside and common land between 1 March and 31 July.