The most popular cat names for 2017
Wondering what the best moggy monikers are this year? Well, as luck would have it, we've got the best cat names ready to reveal, courtesy of our loyal customers!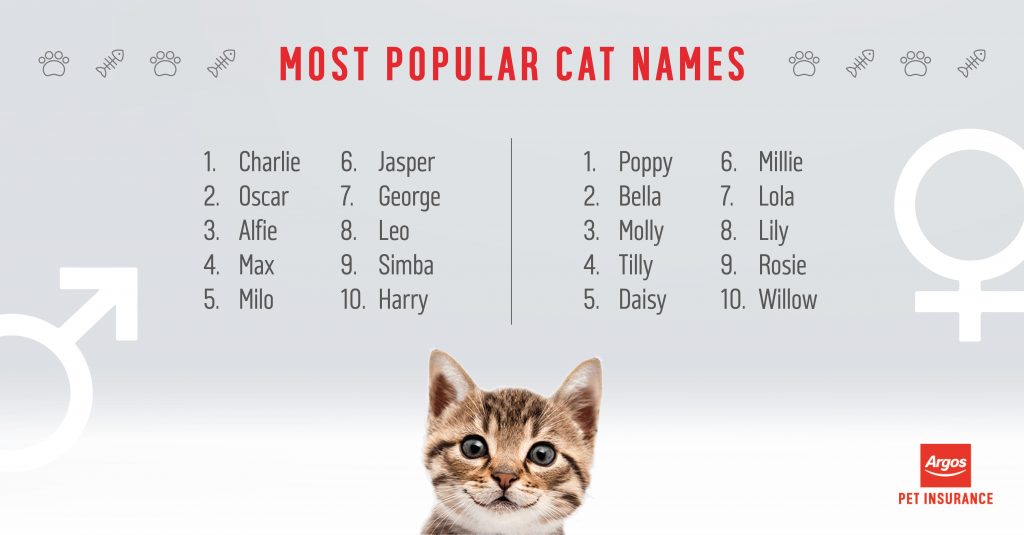 Most popular cat names for girls – 2017
Poppy
Bella
Molly
Tilly
Daisy
Millie
Lola
Lily
Rosie
Willow
For the female felines, the clear frontrunner this year is 'Poppy', knocking last year's favourite of 'Luna' off the top spot. In second place is a long-standing popular name, 'Bella', closely followed by 'Molly'.
One determined female cat name that is slowly clawing (pardon the pun) it's way back up the list is 'Daisy', which was in 10th place last year but now holds the slightly loftier position of fifth place. Go Daisy!
Most popular cat names for boys – 2017
Charlie
Oscar
Alfie
Max
Milo
Jasper
George
Leo
Simba
Harry
For the handsome Tomcats, the name 'Charlie' comes top of the list for 2017. This replaces last year's favourite, 'Oliver', and is closely followed by all-time classic cat name, 'Oscar' which comes in second this year.
Falling slightly out of favour for the boys are last year's second and third most favoured names, these are Max and Milo, which now hold the fourth and fifth position in our list.
Get in touch
Are you getting a new cat or kitten this year? Let us know what adorable names you're choosing by tweeting us @ArgosPets. An adorable photo wouldn't go amiss either!
While you're here, feel free to check out our cat insurance policies over on our main website to make sure your new addition is well cared for. www.argospetinsurance.co.uk