Grooming a dog at home: Everything you need to know
A good hygiene routine is essential for a dog to keep them clean and healthy, it also makes it easier for owners to spot signs of any health issues by being able to examine their dog's coat, teeth, and nails. Professional groomers will also be able to highlight any problems they notice whilst tidying up your dog's coat, but it's beneficial to know how to maintain your dog's fur in between those much-needed groomer appointments. So, we've put together our tips for grooming your dog at home, from washing the coat to brushing and trimming it, we'll take you through step-by-step the best ways to do at-home dog grooming.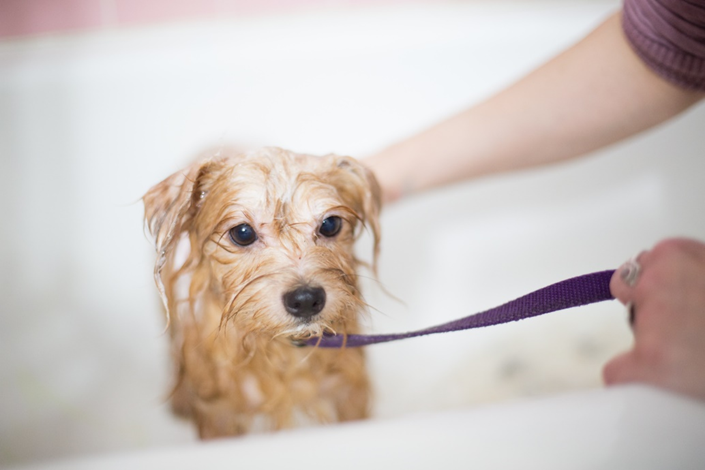 Can I groom my own dog?
Whilst we'd advise you to have your dog seen by a professional groomer every 10 to 12 weeks if required (this can vary depending on the breed), it's also helpful to be able to keep on top of your dog's coat from home. Grooming your dog at home can seem daunting, but our top tips and tricks will help you along the way.
What's the hardest part of dog grooming?
The hardest part of dog grooming is learning how to get started whilst ensuring you keep your dog comfortable. If your dog feels uncomfortable or anxious this could lead to them lashing out or being distressed, therefore it's important to take the right steps to keep your precious pooch at ease before and whilst grooming them.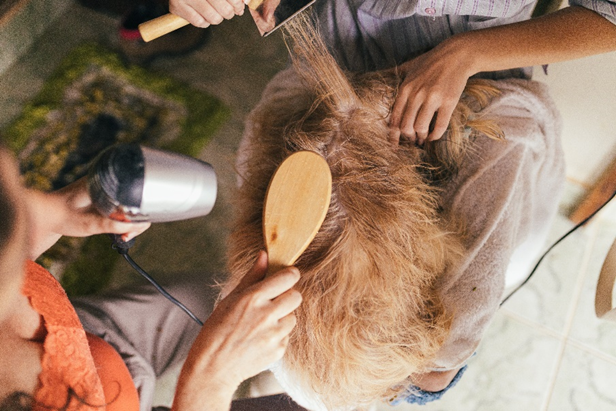 Grooming at home
Below we've put together our guide on dog grooming for beginners at home which will help keep the process as easy and stress-free as possible for both the dog and its owner.
Gently brush your dog's fur daily.
Clip your dog's coat with the correct equipment to trim it down when necessary.
Bathe your dog every so often.
Trim your dog's nails when required.
Brush your dog's teeth regularly using dog-specific products.
Check your dog's ears for wax regularly.
For more information explore our guides to dog dental care, and how to properly bathe and clean your dog, these will give you all the support you need to start grooming your dog in confidence.
How to keep dogs still while grooming at home
One of the biggest worries when home dog grooming is being able to keep your dog still to avoid any injury or distress. A great way to start is by allowing them to become familiar with the equipment – let them explore it and have a good sniff. Then once you get going, take regular breaks when needed and give your dog treats as a reward for staying still. If your dog is showing signs of stress and is unable to calm down, then the best thing to do is stop.
Tips for grooming your dog at home
Make sure you have all the right equipment or a dog grooming kit.
Use the right brush for your dog's coat (dependent on the breed).
Check your dog daily for ticks when brushing their coat.
Only use veterinarian-approved products on your dog.
Keep your dog calm and still when grooming them to avoid any injury.
Only use conditioner and a comb to release matted hair and avoid scissors.
Dog grooming equipment
When it comes to grooming from home it's important to make sure that you have all the essentials to do so. Below is a list of everything you need to have at hand.
Dog grooming brush (specifically for your dog's coat).
Dog-friendly shampoos and conditions.
Natural pet-friendly grooming wipes.
Dog grooming scissors and clippers.
Pet nail trimmers.
Dog toothpaste and a pet toothbrush.
Having these products in your home will make keeping on top of your dog's hygiene a lot easier.
Now that you have everything you need to get started on grooming your dog at home ensure you also have insurance with Argos Pet Insurance provided by Pinnacle Insurance plc. Explore our dog insurance policies today.
Argos Limited is an Appointed Representative of Home Retail Group Insurance Services Limited (HIS). HIS is authorised and regulated by the Financial Conduct Authority (register number 314050). Registered office: 33 Holborn, London EC1N 2HT (registered in England and Wales, no 04109436). HIS act as an introducer to Pinnacle Insurance plc, who sell, administer and underwrite the policy and who are authorised by the Prudential Regulation Authority and regulated by the Financial Conduct Authority and the Prudential Regulation Authority (register number 110866). Registered office: Pinnacle House, A1 Barnet Way, Borehamwood, Hertfordshire, WD6 2XX (registered in England and Wales, no 01007798). HIS and Pinnacle Insurance plc are not part of the same corporate group. © 2023 Pinnacle Insurance plc.