Dog lover celebrates pooches third birthday with friends across the globe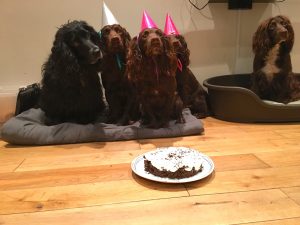 Kelly Roberts, a veterinary student from Monmouthshire, treated her precious puppies, Harry Sophie and Penny, to a fun-filled party to celebrate their third birthday – complete with a cake, party hats, accessories and treats.
The three Cocker Spaniels celebrated the special occasion with their doggy siblings, including Lola their six-year-old mother and Alfie (aged five).
Kelly also held an Instagram party with a special hashtag so Harry, Sophie and Penny's pooch pals from around the world could get dressed up and join in the fun for a virtual party.
Kelly said: "With Lola, our very first dog, we made an effort at every special occasion, like her first Christmas and her first trip to London. We celebrated her first birthday with a cake made of salmon! As our pack grew, so did the parties."
The pups were also treated to a special birthday walk with their other littermates. Kelly added: "It's a great opportunities to see how the other pups are doing and to stay in touch with the families but my favourite part of the day was definitely seeing them eat their birthday cake!"
Kelly has provided a few tips on throwing a party for your pooch:
If your pet isn't enjoying it, or becomes overwhelmed, then stop!
Keep it fun and light hearted and try not to go too over the top with treats – you don't want them to spend their birthday with an upset tummy
If you're making a cake, never include chocolate, macadamia nuts, avocado, grapes, sultanas, raisins or currants. Also avoid adding too much sugar. Good cake ingredients are olive or coconut oil, rice or rye flour, peanut butter, honey, cream cheese, mascarpone, grated carrots, apples or courgette
Remember to take lots of photos and videos for future memories