The most popular dog names for 2017
It's official. The Argos Pet Insurance customers have spoken, and the best dog names for 2017 can now be revealed.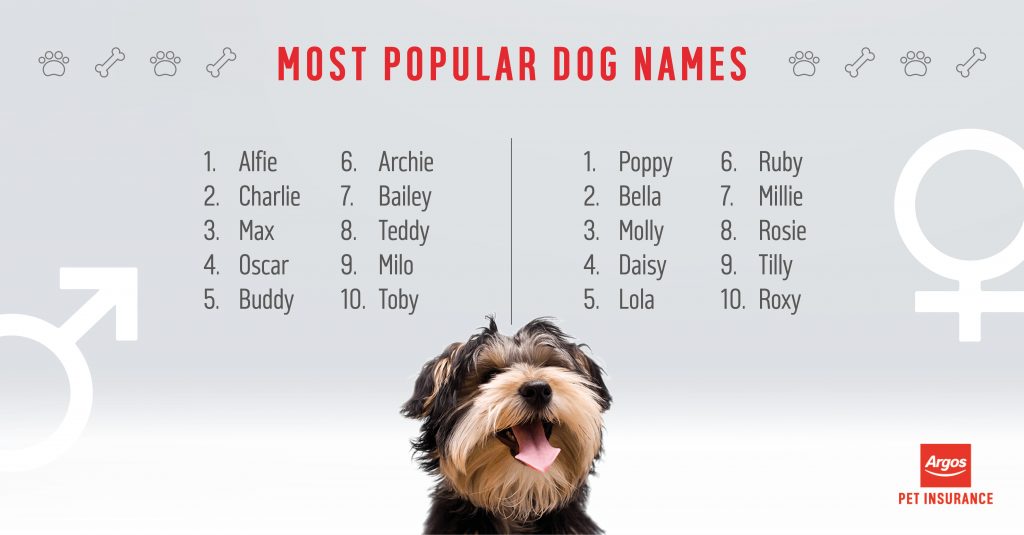 Most popular dog names for girls – 2017
Poppy
Bella
Molly
Daisy
Lola
Ruby
Millie
Rosie
Tilly
Roxy
Flying the flag for the girls this year is 'Poppy', which is proving a popular name all round, with the same one coming top for the female felines too. 'Poppy' has officially knocked last year's favourite of 'Bella' (another mutually popular cat and dog name) out of pole position and into second place. And in third place comes another firm favourite, 'Molly', which has climbed from sixth place since last year.
One very popular name has disappeared out of the top 10 altogether. 'Lucy' was flying high in second place in 2016, but has been well and truly ousted this year.
Most popular dog names for boys – 2017
Alfie
Charlie
Max
Oscar
Buddy
Archie
Baily
Teddy
Milo
Toby
And now, for the boys. The clear front-runner this year with a huge lead (dog pun not intended) is 'Alfie', which replaces 2016's best dog name, 'Max', now in third place. Second place is occupied by 'Charlie', which just so happens to be in first place for best male cat name this year.
One male name that seems to be making a slight comeback this year is 'Milo', which currently sits in 10th place in our customer list. Last year it had been pushed out of the top 10 altogether, sitting in 13th place.
Get in touch
Are you getting a new puppy this year? We'd love to know which name you're choosing – drop us a tweet at @ArgosPets.
You can also check out our dog insurance policies on our main website to make sure your new four-legged friend is well protected for his or her future. www.argospetinsurance.co.uk