The world's most pampered pets
Mirror, mirror on the wall, who's the fairest of them all? Will it be Lola the cheeky Yorkshire blonde with an extortionate designer wardrobe or perhaps it's Buddy the strapping German fella with a facelift?
Either way, they're actually both dogs and just a couple of examples of the increasingly extravagant pet pampering industry worldwide.
The pet industry is worth billions of pounds globally, so it's no surprise there are some animal worshippers out there that are willing to splash a lot of cash on their pets.
The search for the world's most pampered pets recently unveiled the extreme lengths some owners are willing to go to for their cuddly companions and it seems for some that money is no object when it comes to their beloved pet.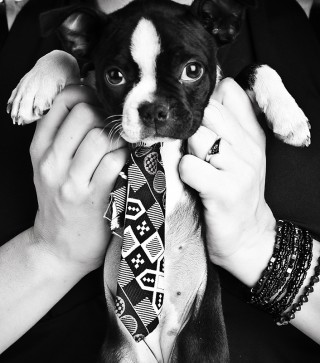 Is pampering your pet a step too far?
But could there be such a thing as too much love? The channel 5 documentary brought us ducks on the catwalk in dresses, a cat with over 200 couture outfits, and dogs with fluorescent dyed mohican's. All of these pets were all in the running for the title of the most pampered.
In the end, it was Lola the Yorkshire Terrier who clinched the title. Her owner, Louise Harris from Chelmsford, spends up to £500 a month on nannies, £220 on insurance and £800 on grooming and treatments for her family of dogs.
She has spent a whopping £250,000 on her dogs in total.
And Buddy the German Shepherd was given expensive cosmetic surgery by his owner Kirsten Hansen Brakeman as she claimed "age had not been his friend."
Who needs therapy?
You may be thinking that these owners have totally lost it, so why is it often the animals that are receiving therapy? With treatments available for pets including plastic surgery, psychics, reiki and botox this industry has progressed from the extravagant to the plain bizarre.
The Association of British Veterinary Acupuncturists was also formed in 1987, as a result of a growing interest in acupuncture by vets in the UK.
But 'doga' takes the biscuit as the oddest craze in the USA. This is a yoga class that involves stretches, massages, and posing with your dog.
There's a price to pay
The most shocking revelation in all of this pampering is the money involved. Lola the dog had a £20,000 wedding (but they have since divorced). This can be difficult to comprehend for some human couples who save for years to afford a wedding at a fraction of that cost.
Well-known luxury brands are also catering for animals; Gucci, Chanel, Dior and Hermes all produce products for dogs. Louis Vuitton sells dog collars for around £200 or scratch proof dog carriers for about £1,500.
All fun and games, but what do the pets themselves make of all this? Lola the dog is reportedly a bit of a 'tomboy' who likes nothing more than running around in streams while on walks.
Owner, Louise says Lola will sometimes glare at her when she puts her into a dress, until she takes it off her.