What should you do if you find a stray dog?
Stray dogs have in general escaped from a back garden or when on a walk. Others can be 'latch-key' dogs or have been abandoned by their owners. Whatever their background they are unlikely to survive for long wandering round. They are at are risk of starvation and accidents e.g. road traffic accidents. The vast majority of dogs are friendly but there is no guarantee with any dog, so care must be taken when approaching.
If you suspect that you have found a stray then it is unlikely that you will know the character of the dog and you should approach with caution. If you are unsure then firstly, attract the dog's attention and approach very slowly. Try to approach side on and make yourself as small as possible without getting on your hands and knees – you won't know if the dog is aggressive and you may need to move quickly. Try to get no closer than 10 feet and then call the dog in a gentle voice with your hand extended, food thrown to the ground may help. Try not to stare at the dog in the eye, this may be threatening. Allow the dog to sniff the back of your hand if it approaches and then gently stroke the shoulder, talking quietly and if possible restrain the dog by attaching a tether e.g. lead, rope or belt. Remember to remain calm at all times. If at any point the dog's body language suggests it may attack or it starts to snarl or growl then slowly move away and contact the local dog warden. Do not corner the dog and do not chase if it runs.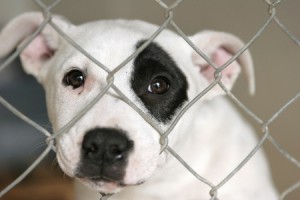 If the dog is injured take extra care. It may be easier to try and move it on a stretcher e.g. blanket. In these situations a dog is more likely to snap. Do not put yourself at extreme risk. If the animal seems injured or in bad condition then the best course of action would be to contact the dog warden, a local vet or the RSPCA.
By law, a dog should be wearing a collar and identity tag carrying the owners contact details, which may make it easy to return the dog directly home. If not, you can contact your local veterinary practice and request they scan the dog for a microchip (it will become law in 2016 for all dogs to be chipped) which will carry the owner's details, but unless injured they are unlikely to be able to take the dog off your hands, as clinics are generally full of sick animals.
The Clean Neighbourhoods and Environment Act 2005 (section 68) makes your local authority solely responsible for dealing with stray dogs. To arrange for a stray dog to be collected, you must contact your local authority dog warden, check their website for contact details. The RSPCA and other animal welfare charities cannot pick up stray dogs or accept them from people who find them. The RSPCA can only deal with a stray dog in an emergency e.g. if it is in imminent danger of death or severe suffering and the police and local authority are unable to attend. If the dog is healthy and friendly and you are a position to, you may like to take the dog home whilst trying to locate the owner. It is advisable to try and advertise locally your stray posters can be downloaded from the RSPCA website. If you have started to fall in love, you may be interested in keeping the dog long term then www.gov.uk/report-stray-dog gives the following advice.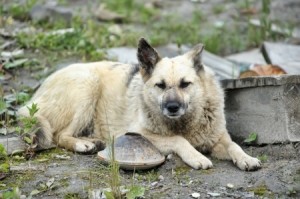 Keeping a stray dog
You can keep a stray dog in your home while you try to contact the owner or your local council. You might be able to adopt the dog if its original owner isn't traced or they don't claim the dog within 7 days. Tell your council if you want to adopt the dog – they'll probably check if you're suitable as a dog owner before you can adopt it. Even if you adopt the dog, the legal ownership of the dog is never transferred to you. This means that the original owner could claim their dog back at any time, even if you've had the dog for several months or years.
How to report a stray dog
When a stray dog is being reported, the following details are required:
The contact details of the person reporting the dog.
A description of the dog including breed of dog, colour and size, approximate age and any features that might help to identify it.
The place, time and date when the dog was found.
Where the dog currently is and where it can be collected from.
Other important information such as whether the dog is injured or ill.