The new dog chipping law: All you need to know
Dog chipping has been common but optional in the UK for several years but, from April 2016, it is compulsory for all dogs in England and Scotland.
Dog chipping was already a legal requirement in Wales and Northern Ireland and Defra – the Government department for environment food and rural affairs – announced that England and Scotland will follow.
The dog chipping law makes it illegal for dog owners not to have their pets chipped.
Owners and breeders who do not have their dogs chipped, could face a fine of up to £500.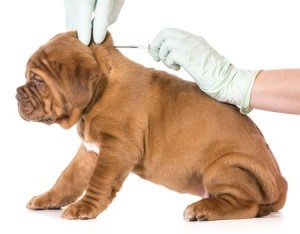 What is dog chipping?
Microchips can be electronically scanned to help track the owners of lost dogs
A chip, about the size of a grain of rice, is injected between your dog's shoulder blades
The procedure does not require anaesthetic and is similar to a standard vaccination
The chip sticks to your dog's tissue and does not move around
How to get your dog chipped
There is no minimum age for your dog to be chipped, though it is recommended owners wait until their puppy is at least six weeks old.
Make an appointment with vet or a reputable micro-chipping service to have your pet chipped. The procedure only takes a few minutes, depending on how well your dog behaves!
Your vet or dog-chipper will not necessarily submit the paperwork for you – so you must remember to register the chip.
Microchipping should not have any effect on your dog's health but, as always, if you notice anything you think is not right after the procedure, talk to your vet about it.
Even after your dog is chipped, remember he or she will still need to wear a collar and a tag when out of the house.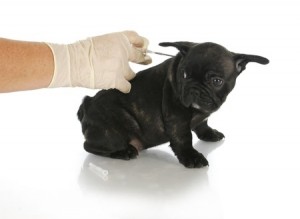 How much is it to get a dog chipped?
The procedure usually costs between £15 and £20. IN the run up to the April 6 deadline it was also being offered by the dog welfare charity the Dogs Trust throughout England and Scotland.
Take a look at the Dogs Trust website, find a rehoming centre near you and make an appointment for one of their microchipping events.
Clarissa Baldwin, chief executive of Dogs Trust, said: "This will help to reduce the number of dogs that needlessly end up with an uncertain fate in council pounds and rescue centres when their owners simply cannot be traced.
"We urge dog owners to view microchipping as part and parcel of dog ownership and, importantly, also take responsibility for keeping their contact details up to date."
Dog chipping law UK facts and figures
About 110,000 stray dogs are picked up by police, local authorities and animal welfare charities each year.
More than half (52%) of these stray dogs could not be rehomed because their owner could not be identified.
About 6,000 dogs are put down each year because their owner is unknown and they cannot be rehomed.
Please note: It is important to stress that our pet insurance policies will not cover the cost of microchipping.