Microchipping Your Dog: Your Questions Answered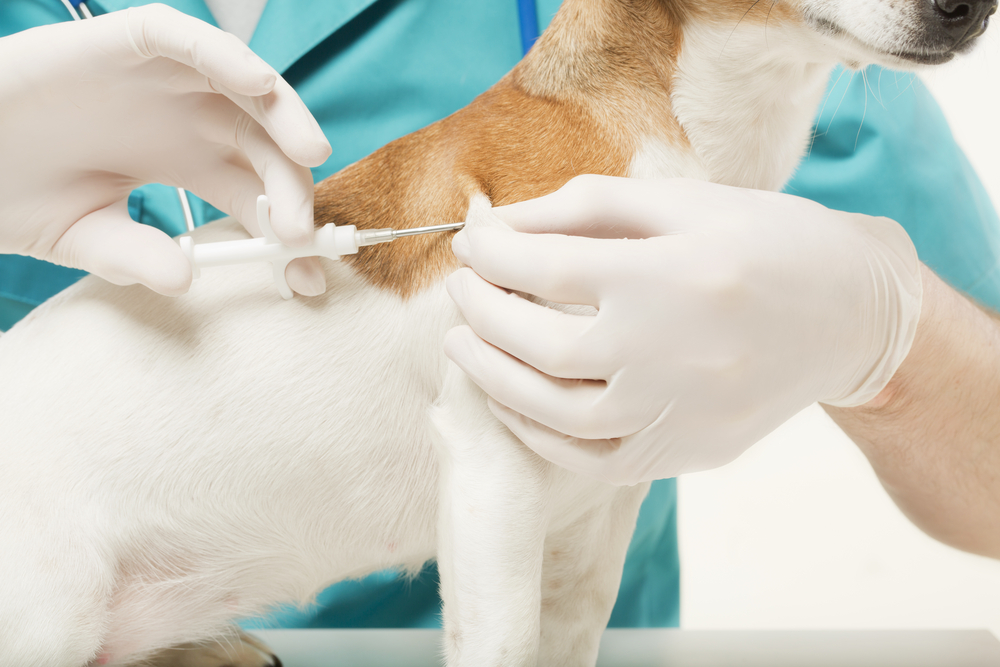 Dog owners across the UK will likely remember this time last year. On the 6th April 2016 dog microchipping became a legal requirement.
Can you believe it's already been a year since this big news? We can't! It seems like only last week we were telling you all about microchipping your dog, and answering your questions.
94% of dogs in the UK have now been microchipped[1], which is impressive considering that around 1.16m dogs were still not microchipped by the day the law came into force last year[2].
A microchip allows dogs to be easily identified if they go missing. Collars can easily fall off or be removed, so microchipping is essential to ensure missing pets are reunited with their owners. When you consider that roughly 250,000[3] pets go missing each year, getting them microchipped is a no-brainer.
Are you getting a new puppy this year? Here are our answers to some of the most common questions asked by owners:
How long do I have to get my new dog microchipped 
All dogs must be microchipped by the time they are 8 weeks old. This means your puppy will usually already be microchipped, as most breeders don't sell puppies until they are over 8 weeks old. As the puppy's first keeper, it is the breeder's responsibility to ensure all their puppies are microchipped and registered by the time they reach 8 weeks old. You should always buy puppies from reputable breeders, and remember to check with them that your puppy is microchipped before you buy.
If you are adopting or rescuing from a shelter, the shelter will have already microchipped the dog prior to adoption.
Does it hurt?
The process of microchipping a dog is similar to that of an injection. It is very quick, so for most dogs it causes little to no discomfort. The chip is inserted under the skin between the shoulder blades, where it will stay completely unnoticed by your dog.
What information do I need to register my dog with?
The physical microchip is only part of the process. You also need to register your details on a database, such as Petlog, and keep them up to date. The information will include:
Your full name, address and contact details
The license number of your dog's breeder and the local authority in which they are licensed (if applicable)
Your dog's unique identification number, name, gender, breed, date of birth, colours and markings
What happens if my dog isn't microchipped?
If your dog is found not to have a microchip or up-to-date registered details, the police or your local authority will issue you with a notice. Once issued, you will have 21 days to get your dog chipped or your details updated to be in compliance with the law. If, after those 21 days, you have still not complied you could be issued with a fine of £500.
Where can I get my dog microchipped?
If, for whatever reason, your dog is still not microchipped, you can often get it done for free by visiting Dogs Trust, Blue Cross centres or Battersea Dogs Home. Some vets and local councils might also be able to microchip your dog for free, so it's worth doing a bit of local research and looking at your options.
Remember, your new puppy or dog will also need pet insurance as well as a microchip, so visit our main website at www.argospetinsurance.co.uk to find out about our range of dog insurance policies.
[1] https://www.gov.uk/government/news/new-plans-to-crack-down-on-backstreet-puppy-breeders
[2] http://www.mirror.co.uk/news/uk-news/dog-micro-chipping-law-see-7656425
[3] http://thevet.co.uk/blog-post/8962497722931761472/Microchipping:%20The%20Law%20and%20FAQs/#.WNKlN3TyiV4