Microchipping Your Dog: Your Questions Answered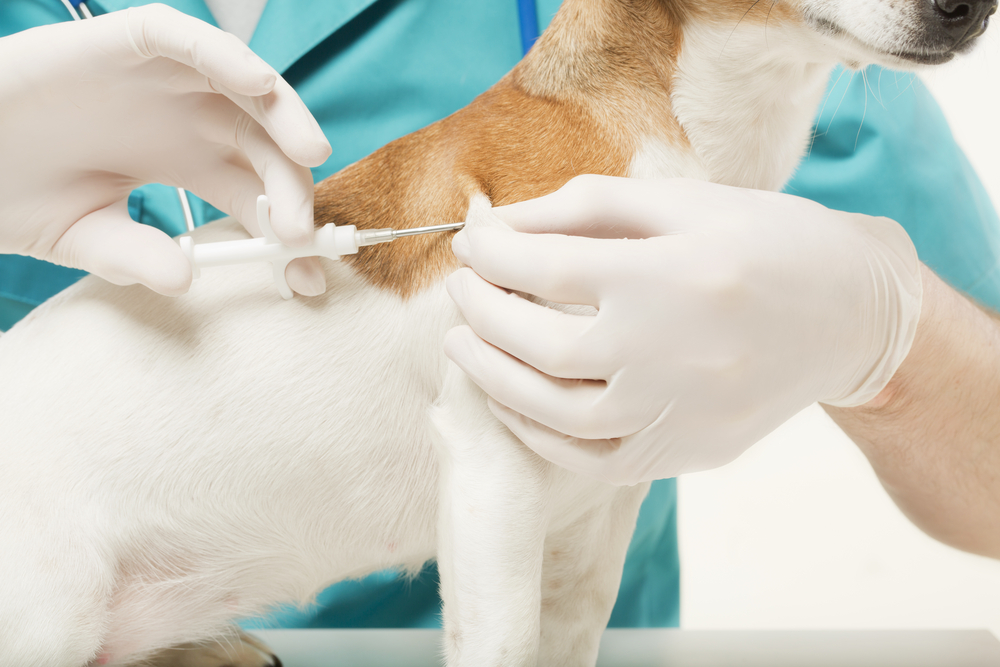 We all want to make sure our pet is safe at home with us, however, sometimes this doesn't happen. 81,050 stray dogs were picked up across the UK in 2017, 9,000 were returned to their owner thanks to their chips[1]. However, nearly half of these dogs remained unclaimed because they didn't have a microchip, or the registered details were out of date.
So, what is microchipping, and why is it so important to get your dog microchipped? If you are getting a new puppy or you have a lifelong canine companion that needs to be microchipped, check out some of the most common questions asked by dog owners below.
What is microchipping?
A microchip is a form of electronic identification. The process of microchipping is when the microchip is implanted under your dog's skin between their shoulder blades. This may sound painful, but the chip itself is only the size of a grain of rice.
A microchip allows dogs to be easily identified if they go missing. Collars can easily fall off or be removed, so microchipping is essential to ensure missing pets are reunited with their owners. When you consider that roughly 250,000[2] pets go missing each year, getting them microchipped is a no-brainer.
Is it illegal to not microchip your dog?
It is a legal requirement for all dogs in England to be microchipped, if your dog is found not to have a microchip or up-to-date registered details, the police or your local authority will issue you with a notice. Once issued, you will have 21 days to get your dog chipped or your details updated to comply with the law. If, after those 21 days, you have still not complied you could be issued with a fine of £500.
Where can I get my dog microchipped?
If for whatever reason, your dog is still not microchipped, you can often get it done for free by visiting Dogs Trust, Blue Cross centres or Battersea Dogs Home. Some vets and local councils might also be able to microchip your dog for free, so it's worth doing a bit of local research and looking at your options.
Cost for microchipping a dog
If you are unable to attend a free microchipping service, the average prices in the UK are usually around £15 – £20. But it is best to get a quote from the vet beforehand. There is also often a fee to update your personal information in the microchipping database, however, some databases offer a premium service that it is paid yearly and may work out cheaper for you if you move addresses or change contact numbers often.
When do I have to get my dog microchipped?
All dogs must be microchipped by the time they are 8 weeks old. This means your puppy will usually already be microchipped, as most breeders don't sell puppies until they are over 8 weeks old. As the puppy's first keeper, it is the breeder's responsibility to ensure all their puppies are microchipped and registered by the time they reach 8 weeks old. You should always buy puppies from reputable breeders and remember to check with them that your puppy is microchipped before you buy.
If you are adopting or rescuing from a shelter, the shelter will have already microchipped the dog prior to adoption. If you are a new dog owner, it could be worth asking your vet to check that your puppy has been microchipped when they go in for their primary vaccinations.
Does microchipping hurt dogs?
The process of microchipping a dog is similar to that of an injection. It is very quick, so for most dogs, it causes little to no discomfort. The presence of the chip, under the skin between the shoulder blades, will be completely unnoticed by your dog.
What information is on a dog's microchip?
The physical microchip is only part of the process. You also need to register your details on a database, such as www.petlog.org.uk, and keep them up to date. The information will include:
Your full name, address and contact details
The license number of your dog's breeder and the local authority in which they are licensed (if applicable)
Your dog's unique identification number, name, gender, breed, date of birth, colours and markings
Be aware that having your dog micro-chipped at the vets does not mean the details are automatically uploaded to the database. If you've just had your dog microchipped, take a few moments to check the database. And remember, your records must always be updated if you move home or change your phone number.
Worryingly, a study by Dogs Trust stated less than 10 percent of dog owners see updating microchip details as a priority when moving to a new house. Updating your records online takes less than five minutes. This is the same amount of time it takes to make a cup of tea, so there's no excuse!
Will the microchip be scanned if my dog goes missing?
If your dog goes missing and they have a microchip, the local authority, vet practice or animal welfare organisation will contact the national database. They will then be able to get hold of your details to be contacted and reunited with your dog.
However, that doesn't mean you should sit at home and relax in the hope that your dog will be found by the authorities. There are many things you can do to search for your lost pet effectively. It is good to be pro-active and search for places you think they may have run to; often they have gone to a neighbour's garden or a local green space. The important thing to remember is to never give up on your lost dog; they may turn up after a few hours, days or months.
Owning a dog comes with great responsibility, so make sure that you are up to speed with pet information and ownership advice before you purchase or adopt a dog or puppy. Now you know everything you need to about the chipping law, remember to protect yourself from unexpected vet bills with Argos Pet Insurance provided by Pinnacle Insurance plc. Explore our dog insurance policies today.
---
[1] https://www.gov.uk/government/news/new-plans-to-crack-down-on-backstreet-puppy-breeders
[2] http://thevet.co.uk/blog-post/8962497722931761472/Microchipping:%20The%20Law%20and%20FAQs/#.WNKlN3TyiV4