How to choose the right cat collar for your kitten
There are so many responsibilities that come with owning a cat that it can be easy to forget that your feline friends need adequate identification.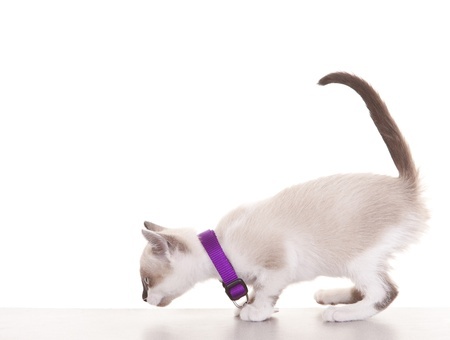 As soon as your cat is ready to venture into the great outdoors, they should be fitted with a collar. Ideally you should also get them micro chipped. That way, if your cat goes missing, when found they can be scanned and traced back to you.
Whether you have them micro chipped or not, a collar is still an essential purchase that all cat owners need to make. There are a lot of different cat collars out there with different purposes, so you'll need to do a little bit of research before choosing one.
Breakaway cat collars
The breakaway collars are highly recommended as they are designed to snap open if they get caught on something. Your cat is a naturally curious animal and could easily end up getting caught in a bush or anything else they decide to investigate. Without a breakaway clasp, there is a chance your cat could choke as they panic trying to get free. Most animal welfare organisations recommend breakaway collars.
Bell cat collars
Another popular option is to have a collar with a bell fitted. These are largely designed to warn birds that your cat is approaching. As your cat moves, the bell will rattle and you and any surrounding wildlife will hear them coming. It's worth noting if you get one of these collars, after a while the bell can break. Therefore it's important to replace the collar when you notice you can no longer hear your cat approaching.
Flea cat collars
Flea collars can be a godsend if your cat picks up fleas. All cats get fleas at some time in their lives. Therefore, regular flea treatments are essential. A flea collar acts as a preventative measure, but they're not all effective so it is advisable that you check out a few reviews before you buy one to see what other people recommend
There are consumer review sites online where people just like you give their opinions on the products they have purchased. You will get to read which cat collars are considered the best and which are a waste of money.
How to choose a collar that's right for your cat
You know more about the different types of collars available now, but there are a few other factors you need to consider before choosing a collar.
The most important thing is to ensure the collar fits comfortably. Like dogs, the many different breeds means that cats can range from small to large and kittens will have a much smaller neck than adult cats. Be sure to measure your cat's neck and choose a collar that comfortably fits.
For the more fashion conscious, there are also different colours, designs and patterns. Just make sure whichever one you do choose; it has a personalised tag to identify your cat.
Now you know which collar to choose for your kitten, make sure you remember to protect your cat with Argos Pet Insurance provided by Pinnacle Insurance plc. Explore our cat insurance policies today.