How to make a birthday cake for your cat
A cat birthday is an event to celebrate – your pet is going to be another year older and another year wiser. So why not help them celebrate their birthday in style? After all, your feline friend has been there for you for the last 12 months. By your side, and on your lap, through all the good times and maybe a few bad ones as well.
We know that sometimes cats aren't the most social of animals. So a big birthday bash might be out of the question. But you can still make their birthday extra special by baking them a lovely kitty cupcake that they're sure to pounce on!
Cute kitty cup cakes
Ingredients
¾ can cooked salmon (break up into small pieces)

3 tablespoons grated cheese (be sure to use a lactose-free cheese)

3 tablespoons flour

1 egg
Method
Pre-heat your oven to a warm and toasty 180 °C (or gas mark 4).

Put all the ingredients into a bowl and give them a good mix. By now you may have attracted some attention, and your cat will undoubtedly be trying to jump up onto the worktop.

Scoop the mixture into two cups of a greased muffin tin.

Bake for 20 minutes.

Garnish with a pinch of catnip – something every cat loves!

Let the cake cool before serving. Cut up the cake if you have a smaller cat or your little friend finds it harder to eat large portions.
Please be aware this is intended as a treat for your kitty on their special day, and shouldn't replace their balanced diet. Always adjust how much food you give daily when giving treats – be careful not to overfeed even if it is a special occasion!
As we always say, you know your cat better than anyone, which means you'll know that not all foods agree with them. Make sure you read the ingredient list carefully and take vet's advice before feeding them something new.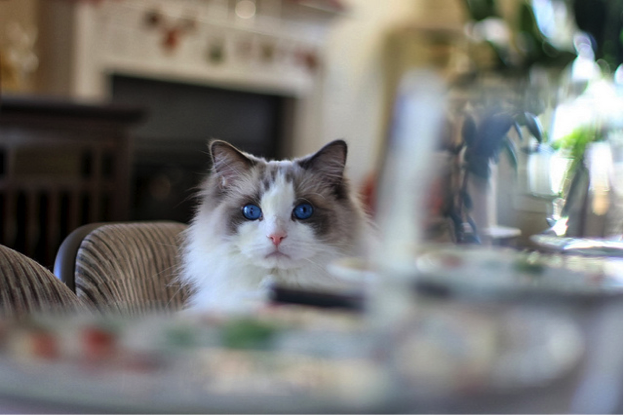 A birthday surprise!
For some, a present and cake aren't quite enough to spoil their little buddy on their birthday. If you feel like that, you could always do what the proud pet owner in this video did…
Whether it's a masterpiece or missing pieces, too amazing to eat or too funny looking for words, we'd love to see pictures of your completed cake. We'd also love to see your cat's reaction to their special treat so share with us on our Facebook page!
Spoiling your feline friend is only natural, but remember it's important to protect your cat with Argos Pet Insurance provided by Pinnacle Insurance plc. Explore our cat insurance policies today.