How to choose the best dog shampoo for your pooch
There are hundreds of pet grooming products to choose from, so choosing the best dog shampoo for your pet can be a bit daunting.
Many products will make bold claims and have slick branding but, most likely, the best one for your pet will very much depend on your dog and his or her specific needs.
Just like when trying products for yourself, it might take a process of trial and error for you to find which is the best dog shampoo for yours.
Here's some things to think about when making your selection.
Dog shampoos for general cleansing
If your dog has 'normal' hair and skin (they do not have any special requirements), then there are plenty of products out there.
Prices range from a couple of pounds to medicated shampoos which can cost more than £50, depending on the quantity you buy. Some products are described as shampoo and conditioner and all will help improve your dog's odour.
If your dog has a tendency to get smelly easily, you'll find a wide array of deodorising dog shampoos on the market that should keep him or her smelling fresher for longer between baths.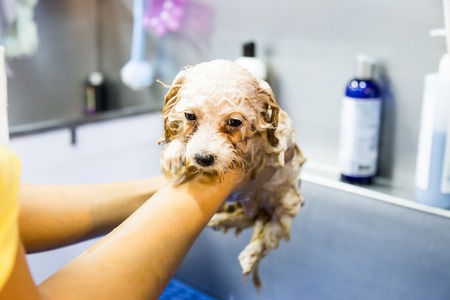 Medicated shampoos for dogs
Just like humans, many dogs need more specialist shampoos, for example if they have dry, itchy skin.
If this is the case with your dog, it's a good idea to get your vet's advice before buying. Argos Pet Insurance customers can also ring for advice if their dog has dry or itchy skin.
Some medicated shampoos can cause an adverse reaction and actually make the problem worse. Also, specialist dog shampoos are not cheap, so you want to make sure you're not wasting your money.
Best dog shampoo for fleas
As with shampoos for dry skin, most pet shops will offer shampoos specifically designed to deter fleas away from pets.
Again, it's best to talk to your vet or a professional dog groomer before using any of these.
Some of the best dog shampoos designed to deter fleas contain a form of insecticide and, while it's safe to use on most dogs, it could pose a risk to pets with certain health issues.
However, you should be aware that there are no dog shampoos that can specifically get rid of or prevent fleas.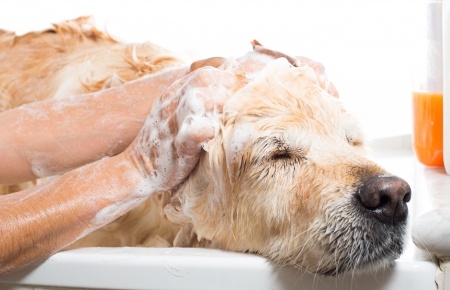 Best dog shampoo for allergies
There are two types of dog shampoos for allergies – products that help your dog and products that help humans.
Some dogs have skin allergies, which might be the cause of dryness or itchy skin. You'll find a selection of dog shampoos made to help with this.
You can also find dog shampoos that claim to help humans who suffer from pet allergies.
If you have a member of the family or a regular visitor who tends to get the sneezes in the company of your dog, this could be a consideration for you.
Anti-dander dog shampoos aim to reduce the amount of scratching your dog does, hence reducing the amount of allergens released into the environment.
General tips for buying dog shampoo
Get your vet's advice: Unless your dog falls into the 'normal' category, then it's always best to get some advice before buying a specialist product. This will ensure your dog is healthy and you don't waste money.
Pay close attention to dog's fur and skin: Check your dog's coat and skin immediately after bathing and monitor it between baths. This way you will have a better idea of the affect the product is having.
Don't use human shampoo: It might be tempting to use some shampoo you have in the house to give your dog a bath – particularly if it's urgent. Shampoos for humans are almost all too harsh for dog's skin, so it's better to live with a stinky dog for a few hours than risk causing skin problems.
Keeping your dog in tip top condition is important, as it protecting it with Argos Pet Insurance provided by Pinnacle Insurance plc. Explore our dog insurance policies today.