Explore the outdoors for National Walking Month
It's time to put those paws to use! May is National Walking Month and it's the perfect chance to spend quality time with your dog. Whether it's travelling your usual route or having an adventure, getting outdoors is great for you and your pooch.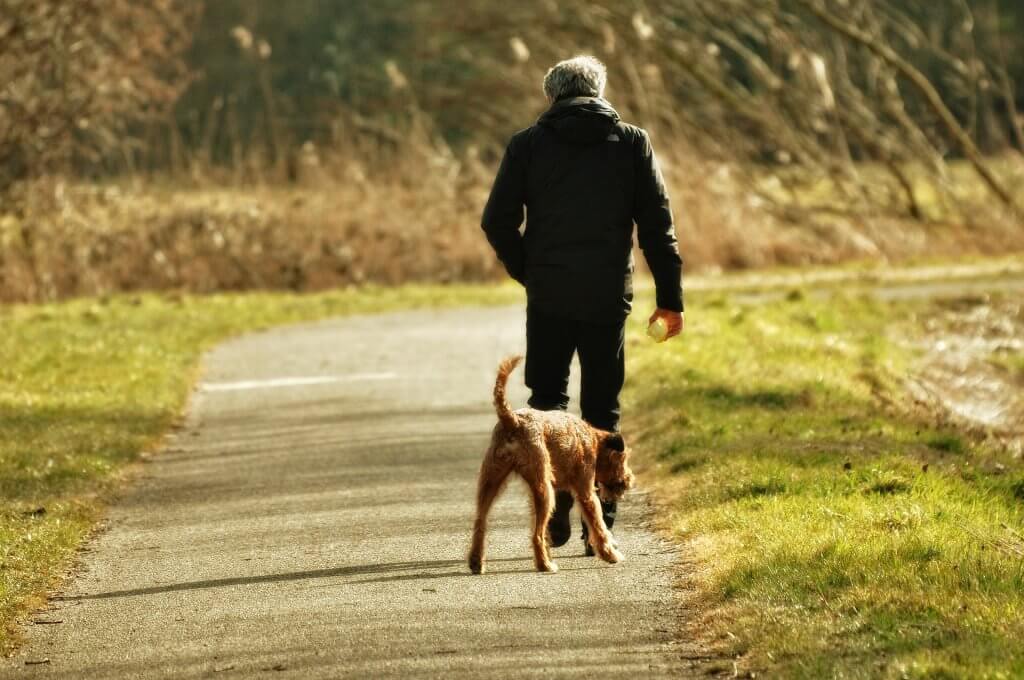 What is National Walking Month?
National Walking Month was set up by charity Living Streets to encourage people to include more exercise in their day. Walking for an extra 20 minutes a day can boost your mood and health.
Living Streets is encouraging people to do the school run on foot, explore their local community and raise awareness for the health benefits of exercising more.
Here's how you can make the most of National Walking Month with your dog.
How can I find dog walks near me?
If you want to explore the great outdoors with your pooch, you may be wondering where to start.
You can find dog walks in your local area by using online websites that allows you to search your area and find new places to walk your dog, whether it's in a nature reserve, by a lake or in the countryside.
If you're feeling a little more old-school, get out the old, trusty map and walk from your home to the nearest place you see on the map! This could be a great way to explore your area, but don't forget to take your mobile and a bottle of water out with you in case you get lost.
How often should I walk my dog?
How often you walk your dog depends on the type of dog you own. Some breeds only need one walk a day, whereas others, particularly high-energy ones, require more walks each day. Adding an extra 10 minutes to each of these walks in National Walking Month will allow you to get your recommended daily steps in. Your dog will surely enjoy the extra time outdoors, giving them more time to explore!
Where is best to walk my dog?
The best places to walk your dog is simply wherever you and your dog prefer! Some dogs love to swim in lakes, get muddy in a nature reserve or chase a ball on an open field. Wherever you do decide to walk your dog, it's important to make sure your dog is familiar with the area if they are prone to running off. You should also check that the park or reserve you choose for a dog walk is dog friendly.
If you prefer not to stray too far from home with your dog, simply change up your current dog walking routine to keep things interesting for both of you. Making a minor change to your route, such as taking a new turning to make the walk longer will make a big difference. Your dog will also appreciate a change of scenery and the new smells they'll experience.
If you're feeling more adventurous, try somewhere completely new. Check out dog walking routes and different dog-friendly parks in your local area. Exploring somewhere new will see time fly by and you'll have a happy dog on your hands.
Why is exploring the outdoors good for my dog?
Most dogs love to explore the outdoors. It is great for your dog's mental and physical health to get outside and explore their surroundings. They may also meet new canine friends while out on a walk, helping to socialise them and feel comfortable around other dogs.
Can I take my dog off their lead?
If your dog is well-trained, you can take him or her off their lead during a walk. Dogs must always wear a collar when they are out in public, so that they can easily be traced back to you if they run off or get lost during their walk.
Make sure that your dog understands return calls and is well behaved around other dogs and humans too. This way they won't ruin somebody else's lovely walk in the countryside this National Walking Month!
Taking the extra time outside can help with your dog's walking habits, so taking them off the lead for a little bit at a time can really help to perfect off-lead walking.
My dog is nervous on a walk: how can I help them feel calm?
There is no denying that not all dogs love walkies. Whether it is due to bad experiences in their past or they feel nervous around other dogs, taking your dog for a walk where other dogs are around, and off their leads, might fill you with dread. However, there are some things you can do to help keep other dogs at bay, and ultimately keep your pooch's tail wagging.
Wear a yellow 'nervous' dog bandanna or dog coat
Did you know there are charities, such as the Yellow Dog UK, that provide precautions to help make your dog feel more comfortable out on walks? Wearing a bandana or coat that indicates to other dog owners that your pooch needs some space can help keep other dogs away from yours, meaning your four-legged friend can relax and enjoy a walk in the great outdoors in peace.
Keep your dog on a lead and stay close to them
Make sure to keep your dog on a lead if they are likely to get anxious when another dog comes to say hello. Stay close to your dog and keep them occupied with toys and treats while out on your walk.
One of the greatest benefits of having a dog is getting out in the great outdoors more often and helping to improve your health, well-being and fitness too! If your dog loves bounding around in hilly landscapes or prefers gentle strolls in your local park, there are plenty of ways to explore the outdoors with your pooch.
Explore the outdoors with your pet! But remember to keep it protected with Argos Pet Insurance provided by Pinnacle Insurance plc. Explore our pet insurance policies today.