Pet friendly recipes for tasty treats
Everyone loves a tasty treat from time to time and your pets are no different! However, you may be scratching your head wondering what your cat or dog can eat. That's why we've put together some pet friendly recipes for them to enjoy.
Following these pet friendly recipes will ensure that you are giving your pet a nutritious tasty treat. You can tailor all the ingredients to your pets dietary requirements.
Homemade Biscuits
Your dog has no need to be jealous of these tasty biscuits, because they're pooch-friendly!
To make them you will need:
256g of flour

125g of peanut butter (make sure it's Xylitol-free!)

2 eggs

60ml water
First combine the flour, eggs and peanut butter. Then add the water and mix together until the mixture has turned to dough.
Next roll the dough out on a bed of flour and knead until it no longer sticks. You can then proceed to start cutting shapes of your choice with a cookie cutter or a knife.
Once you've cut out all your shapes, placing the cuttings in the oven for 20 minutes at 175℃.  
Bake until they are browned and leave the biscuits to cool until they're dry, crisp and ready to eat!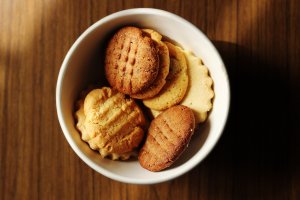 Tasty Salmon Treats
Crispy and crunchy, it may not wow Gordon Ramsay but these salmon treats will definitely impress your cat.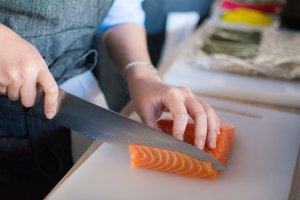 To make this recipe you will need:
256g of whole wheat flour

280g of chopped salmon

1 egg
Start by preheating an oven to 180℃.
Then, mix together the whole wheat flour, salmon and egg in a bowl until it is well combined and starts to form a dough.
Next, roll the dough flat and cut out shapes with a cookie cutter before placing on an un-greased baking tray.
Bake for 20 minutes until they are browned and allow to cool before serving.
These recipes are tasty treats that your pets can enjoy in moderation as part of a balance diet. If they have any specific dietary requirements or health problems like pancreatitis take this into account when considering if these recipes are appropriate.
Spoil them with tasty treats but remember to protect your pet with Argos Pet Insurance provided by Pinnacle Insurance plc. Explore our pet insurance policies today.