What should you do if you find stray cats?
Cats are different to dogs as a large proportion have free access to the outside world and can come and go as they please. Often this involves visiting neighbours for food or a warm place to sleep. Relatively few cats are exercised outside by their owners they are much more independent than dogs. So, identifying genuinely stray cats can be tricky!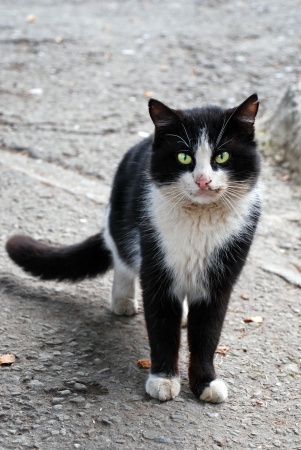 How to find a stray cat's owner
Many stray cats have been 'rescued', only to find their owner lives round the corner and this can sadly result in owners losing a cat never to be reunited with them.
So before assuming a cat is stray, even if it comes into your house, it is worth making enquiries or placing posters in the neighbourhood. Asking neighbours if they recognise the cat or, know who it belongs to can often yield a positive and rewarding result.
You can even download a paper cat collar, from the RSPCA website, that you attach to the cat to try and gain an owner's attention. Another option is that you visit www.Pets Located.com, an online resource to reunite owners with their missing pets, you can register the stray cat as found, for free, and see whether its owner has reported it as lost.
The stray cat that is friendly and approachable may belong to someone and as long as it appears healthy it would be best to try and find the owner first.
One option if the cat can be handled and transported safely would be to take the cat to your local vet and request that they scan for a microchip which will reveal the owner's details. They are unlikely to take the cat off your hands as the hospital is full of sick animals.
Another option is to contact the Cats Protection League (CPL) who are aware of the large number of 'stray' cats that are 'rescued' and never reunited with their worried owners on a daily basis. They hold a Lost and Found Register on their website and will happily assist you. There contact details can be found on their website, along with a checklist of information they will require or on 01227 266838 (local rate).
If the stray cat is very unfriendly it may be feral or semi-feral and if it appears healthy then it probably best left alone as they are able to look after themselves. Take precautions when approaching a potentially stray cat. Do not in any circumstances risk being bitten or scratched. If possible always use a safe and contained box, bag or basket to transport a cat – never just carry in your arms as this can lead to injury of yourself and the cat if it suddenly gets scared.
There is no legal requirement to report a stray cat and councils are not involved in their management. That's why it can be a good idea to follow our guidelines to help locate your lost cat.
You may also find the RSPCA or other local rescue organisations helpful. If you elect to keep or rehome the cat then after a reasonable period of time e.g. 10 days of advertising and trying to find the owner during which you have been unsuccessful you can find a new home for the cat.