Top tips for going on a dog-friendly picnic
In honour of National Picnic Week, which takes place from the 21st-30th June, we thought what better way to spend quality time with your dog this summer, than on a picnic?
It's great to make the most out of whatever summer weather we have, but it's also important to make the experience as risk-free for your dog as possible. Without the right preparation and care, your picnic ideas could create dangers for your pooch.
Here are our top tips for going on a dog-friendly picnic.
Picking the perfect picnic spot
When you're on the hunt for that perfect picnic spot, how about finding a dog-friendly park. You can search for the best places to take your dog on Dog Friendly Britain.
When it comes to looking for a park to enjoy your day in, it's crucial that you find a spot with plenty of shade. Ideally, it will be quiet too, but it is important that you find a picnic spot your dog won't overheat in. Picnicking in a woodland area might be the best option for your pooch for finding shade.
To help prevent your pooch from overheating, you could buy them a cooling coat. To help your dog keep cool in hot weather, all you have to do is place the coat in a bowl of cold water, wring out the excess water and then place around your dog.
Once you've found the perfect location, make sure to check the area for any discarded bones and rubbish. A dog's sense of smell is 10,000 times better than humans. This means they can easily sniff out things that humans can't, which may be harmful to your pooch. Poultry bones, for example, can puncture a dog's stomach if consumed. Always make sure to give the surrounding area a thorough check for any hazards.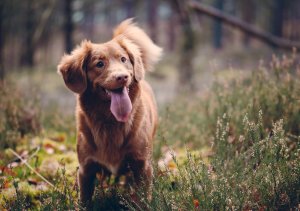 Packing a dog-friendly picnic basket
Surely you'll bring a picnic blanket for yourself, but grab one for your pooch too! It can serve as a dog bed and give them their own space to unwind while you're enjoying your own time in the sun. Plus, if you take the car to your picnic spot, you can use the blanket as a barrier between your dog and car seat if they get dirty.
Don't forget that dogs get thirstier when hot than humans do. Make sure you provide plenty of water for your pooch.
If your dog seems to be drinking more than usual, make sure that they are getting enough time in the shade so as not to overheat. You should consult with your vet if you're still concerned about your dog's health.
If you're wondering what to take on a picnic, there are plenty of dog-friendly foods you can both enjoy. These include rice, and chicken, as long as they don't get anywhere near the bones. However, these foods should only be enjoyed as an occasional treat.
You can even prepare tasty treats for your dog so they don't miss out on all the picnic fun. Even if you're bringing human food for dogs, we recommend still bringing their usual dog food and dog treats. This is so they're less likely to nip at your scraps!
Avoiding human foods that are harmful to your dog
The list of what not to feed dogs is longer than you think. Chocolate may be the obvious food to keep away from your dog. However, you should also keep your dog away from food such as grapes, raisins, currants and xylitol which is a sugar-free sweetener found in some baked goods and diet foods.
Fatty foods may also leave your dog with an upset tummy. If your dog gets an upset stomach after eating a certain food, you should avoid this altogether. Similarly, food such as corn on the cob can get stuck in your dog's intestines. It is also difficult to detect on x-rays, so you should keep these out of reach too.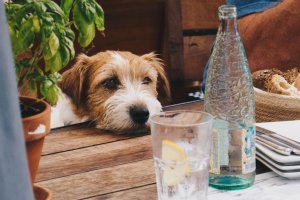 Playing with your dog before and after you eat
If you want a calm eating experience – especially if you have an energetic dog, take them for a walk before you sit down to eat. You'll get to explore the area together and it will tire them out enough for you both to enjoy your meals.
To keep your pooch occupied while you eat, bring some outdoor dog toys to let them play with. A rope toy is a good option if they're teething or just to enjoy something to chew on.
After you eat, a tennis ball is a good way to play with your dog. Why not pair the tennis ball with a ball launcher, which can launch your dog's tennis ball over 50ft in the air. Playing fetch is a great form of fitness for your dog and will keep your energetic dog entertained before your journey home.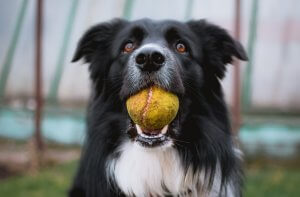 Protecting your pet if they suffer from allergies such as hay fever
Believe it or not, dog allergies are real. Just like the rest of us, your pooch can fall victim to hay fever. Breeds such as Schnauzers, Terriers, Poodles, Dalmatians, and Irish Setters, are more susceptible to hay fever symptoms.
If you notice that your dog has red, runny, and itchy eyes, is scratching excessively, sneezing or has rashes on their face and paws, your dog may have hay fever.
It's best to consult with your vet if you think your dog may be suffering from allergies. However, you can also try giving your dog's coat a thorough wipe with a damp wet towel after your picnic, which you can follow up with a good brushing of their coat.
Wherever you choose to take your dog for a fun day out picnicking, make sure it is as safe and as fun for them as possible.
Involve your dog in the family picnics but remember to keep your furry friend protected with Argos Pet Insurance provided by Pinnacle Insurance plc. Explore our dog insurance policies today.